Senator Bernie Sanders is no longer a candidate for president. Five years of drama have now come to a close. Or have they? To all appearances, Sanders bowed to pressure, from inside and outside his Democratic primary campaign. He has accepted the inevitable: Joe Biden's victory and his elimination. Or has he? It may depend on what one means by the words "victory" and "defeat." And though it now seems certain, how inevitable is Biden's nomination at the Democratic National Convention in August? How is anything inevitable in a year when most ordinary human movement is restricted and confined?
---
Can the Democratic Establishment Afford to Shun Sanders Again?
---
On April 8, Sanders cited this simple reason for ending his campaign: "The path toward victory is virtually impossible."
Here is today's 3D definition:
Virtually impossible:
Possible
Contextual Note
Some stylists and linguistic commentators have pointed out that the word "virtually" can be used as a facile and misleading rhetorical device. The linguist William Lutz, author of the book "Doublespeak," calls it a "weasel word," which is his term for words that convey a meaning beyond and sometimes in contradiction with the meaning people usually attribute to it. Words become weaselly when they lead to conclusions or ideas that deviate from the perceived logic of the situation.
Here is what Lutz has to say about the word virtually: "One of the most powerful weasel words is 'virtually,' a word so innocent that most people don't pay any attention to it when it is used in an advertising claim." Lutz tells us, "'Virtually' means not in fact." The same is true when the word is used by a newscaster, an entertainer or a politician, even a politician with as strong a reputation for sincerity as Sanders.
So, was Sanders being disingenuous when he evoked a "path toward victory" that is virtually impossible? Before dealing with how he treats the idea of "virtually," we should notice that "path" is a metaphor. Most people take his statement to mean that victory is impossible. Given what we know about political procedures, even in this strangest of all election years, a Sanders victory is very literally impossible. But the path to victory is only "virtually" impossible, meaning it is real. The path he has created exists even if the victory of being the nominee is now excluded.
Sanders provides some clarity about the path he has embarked on. "While Vice President Biden will be the nominee, we must continue working to assemble as many delegates as possible at the Democratic Convention, where we will be able to exert significant influence over the party platform, and other functions." US President Donald Trump was the first to notice Sanders' clever ambiguity. It even seemed to worry him as he called it "weird." Here is how Trump described Sanders' decision: "He didn't really drop out … What about his delegates? I mean he said he's going to keep his delegates, which is sort of interesting … and he would like to get more. Now, is he dropping out or not? That's not dropping out. … That's a weird deal going on there."
"Weird" obviously means out of the normal, unexpected. But for Trump, it also implies "suspect" or "devious." Given Trump's plan to focus on thrashing Biden in November, he appears to believe it's also problematic since the Sanders variable makes it more difficult for the president to assess the nature of his adversary in preparation for his battle plan. At the same time, Trump cleverly highlights for the public's appreciation the conflict and confusion within the Democratic Party. As he has always been accustomed to do, he seizes on this as an opportunity to exacerbate the party's internal divisions.
As the author of "The Art of the Deal," he then goes on to say: "I think he's doing it to negotiate. That's a hard thing to do." President Trump is right. And this is especially true of a Democratic Party that has consistently demonstrated in recent decades its inability to reconcile or even accommodate its own contradictions.
Historical Note
The history of the Democratic Party since President Franklin D. Roosevelt (1932-45) tells the story of a party with a permanently unstable identity. For his four electoral victories, Roosevelt relied on a majority that depended on the combined support of two unlikely demographic groups: progressive-urban and working-class voters in the North and the racist, reactionary political forces that had dominated the South since the end of the Civil War in 1865. White Southerners could never forgive the Republican Party of Abraham Lincoln for emancipating the slaves.
In contrast with the Democrats' unnatural coalition, the Republicans based their appeal on their commitment to two more easily reconcilable themes. The first was the promotion of business and the economic prosperity of the nation. It enthroned entrepreneurs, industrialists and self-made men as heroes. The second was a vague cultural idea of independence and freedom from unneeded restrictions.
In terms of ideology, the rivalry of Democrats and Republicans thrived on a simple contrast between those who accepted and encouraged a positive role for government (Democrats) and those who entertained the ideal of a civilization with minimal government or indeed no government at all other than that provided by local initiatives. Many Republicans sought to frame this as a competition between capitalism (freedom) and socialism (despotism), creating the myth that capitalism was incompatible with despotism and socialism was incompatible with civil liberties.
Republicans could thus accuse Roosevelt of being a socialist because of the centralized reforms he put in place to reduce the misery caused by the Depression. Republicans interpreted this as a violation of the play of free markets, a sin against capitalism and a first step toward communist despotism. In reality, everything Roosevelt did was designed to save the capitalist economy from total implosion or revolution. Nevertheless, the Republicans managed for decades to keep those misleading labels alive and continued to shame Democrats for their disloyalty to capitalism.
The Rooseveltian coalition inevitably broke down when the success of the civil rights movement in the 1960s led to the end of segregation in the South. Previous Democratic regimes, including Roosevelt's, had protected the blatant apartheid practices of the former Confederate states as a condition for retaining the support of Southern Democrats. But the civil rights movement provided the straw that broke the Democratic donkey's back. The South could no longer embrace its traditional Democratic identity and, as a voting bloc, migrated toward the Republicans, who were more amenable to racism.
From that point on, the Democrats began to focus on all minorities, not just black Americans, to rebuild a solid enough coalition to win elections. That effort, combined with the continued shaming of Democrats for being "big government" socialists, led to the focus on identity politics. At the same time that Democratic politicians realized the value of courting the sophisticated practitioners of financialized capitalism of Wall Street, identity politics allowed them to polish their profile as defenders of the oppressed. Their association with finance, furthered by their activism in promoting globalization, had the twofold merit of encouraging big business as a creator of national wealth and jobs while providing a generous source of financing of Democratic electoral campaigns. Democrats could no longer be accused of being socialists.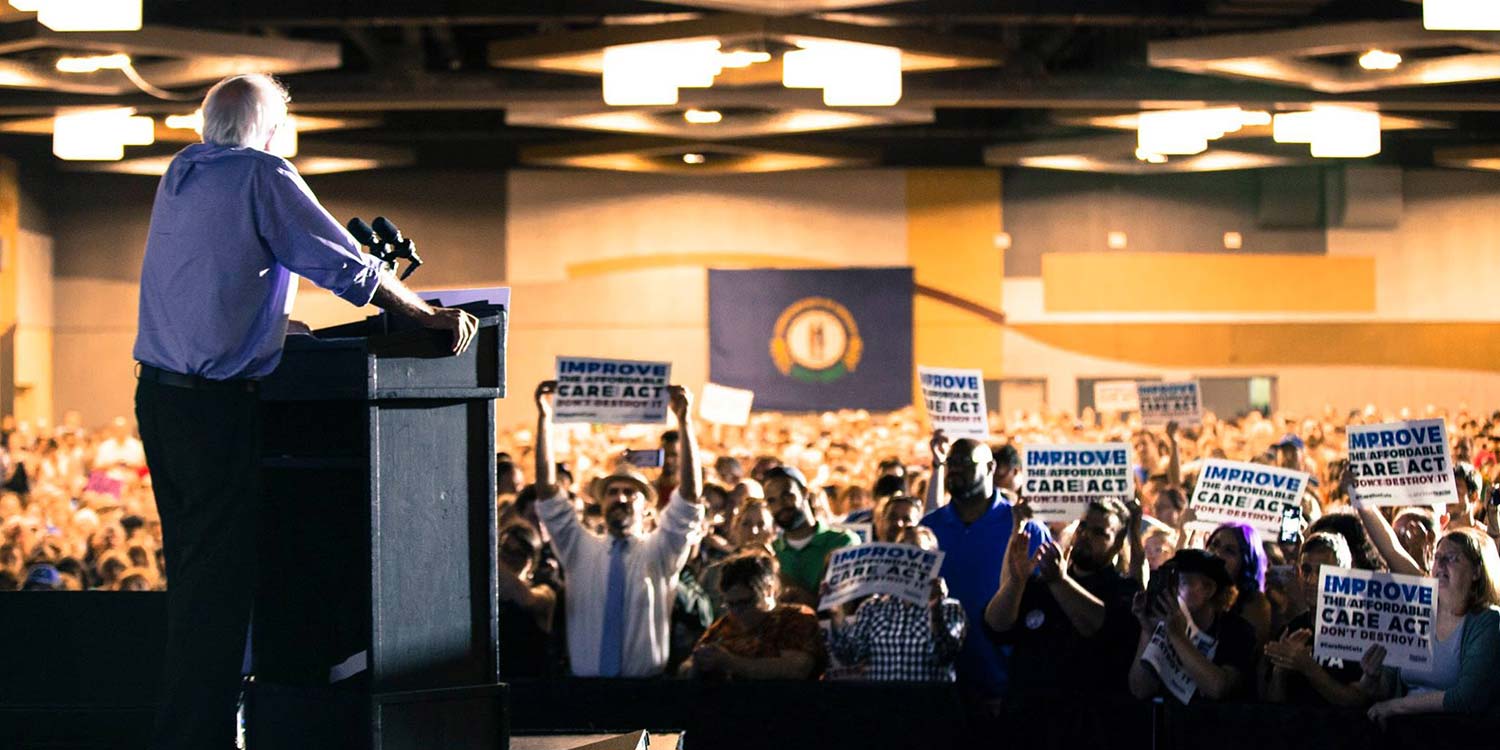 This inevitably created a new contradiction, which Bernie Sanders, in the 2016 presidential primary campaign, was the first to exploit and turn into a movement. The Vermont senator helped wide swaths of Democratic voters perceive that the principal source of oppression wasn't the cultural marginalization of minorities (even though racism, prejudice and injustice continue to exist and required corrective measures), but the economic system itself that was now dominated by finance and monopolistic corporations that effectively produced wealth but also growing inequality.
This posed a new problem. As the new leader of the Democrats in the 1990s, President Bill Clinton had firmly aligned the party's identity around the performance of an economic system that abandoned Lyndon Johnson's preferred themes of justice and equality (civil rights, "war on poverty") in the 1960s and now focused uniquely on profit and growth. By 2017, Nancy Pelosi, today's Democratic House majority leader, could confidently proclaim that "we're capitalists and that's just the way it is."
In his 2016 campaign, Sanders had already claimed to be a democratic socialist. Even after his defeat to Hillary Clinton for the party nomination, it became clear that he had launched a grassroots movement that was challenging the Democratic Party from within and ultimately forcing an identity crisis that is even more visible in 2020.
Since that critical moment of history, at the end of which Clinton was defeated by Donald Trump in November 2016, the Democratic Party has had to live with that contradiction. A clear majority of the younger generation has elected to focus on reforming the economy to the point of tolerating the idea of socialism. This also reflects a growing impatience with the financial capitalism that has become such a visible presence in Democratic politics. But the party establishment has demonstrated its commitment to making the "path to victory" a literally impossible goal to achieve — and not just for Sanders, but for the younger generation too.
Trump is right to see this conflict as a serious weakness of the opposing party. The party itself has once again shown itself to be helpless as well as clueless to find a way of reconciling the two visions. If their goal is to win elections, the Democrats should be dedicating themselves to creating harmony between the two sides. But there may be a good reason for their failure to do so: The two visions are strictly incompatible, just as keeping the South and supporting civil rights were incompatible commitments. Reaching a compromise today would require humbling the financial sources the party has come to depend on. But moneyed interests refuse to be humbled. They are happy with the Republicans and would instantly withdraw their support from Democrats who betrayed their interests. So, the party does what it always does: it humbles those who challenge it.
But Bernie is absolutely right, in ways that perhaps his followers don't even understand. The path to victory for the insurgent forces in the part is for the moment impossible, but only "virtually" impossible. This is especially true at a time when the flaws and contradictions of a system skewed toward moneyed interests and indifferent to human needs have never been more visible and more damaging to ordinary people's lives. And though the path toward a possible victory may only be trodden at the cost of political conflict and possibly even popular rebellion, Sanders knows that he has cleared much of the brush from that path.
Can Joe Biden win in November? It's possible, given Trump's easily exposed weaknesses. But it's also possible that the chaos that will inevitably unfold in the coming months will produce a number of other credible scenarios, one of which includes the canceling of the presidential election itself.
If Biden loses in November, the Democrats will once again blame Sanders and the "deplorable" Bernie Bros. They've already begun blaming Sanders for not losing himself in ecstatic praise of Biden as he quit the race. But whatever happens in the November election, they probably won't be able to grow back the brush that formerly covered the path Sanders has cleared.
*[In the age of Oscar Wilde and Mark Twain, another American wit, the journalist Ambrose Bierce, produced a series of satirical definitions of commonly used terms, throwing light on their hidden meanings in real discourse. Bierce eventually collected and published them as a book, The Devil's Dictionary, in 1911. We have shamelessly appropriated his title in the interest of continuing his wholesome pedagogical effort to enlighten generations of readers of the news.]
The views expressed in this article are the author's own and do not necessarily reflect Fair Observer's editorial policy.
For more than 10 years, Fair Observer has been free, fair and independent. No billionaire owns us, no advertisers control us. We are a reader-supported nonprofit. Unlike many other publications, we keep our content free for readers regardless of where they live or whether they can afford to pay. We have no paywalls and no ads.
In the post-truth era of fake news, echo chambers and filter bubbles, we publish a plurality of perspectives from around the world. Anyone can publish with us, but everyone goes through a rigorous editorial process. So, you get fact-checked, well-reasoned content instead of noise.
We publish 2,500+ voices from 90+ countries. We also conduct education and training programs on subjects ranging from digital media and journalism to writing and critical thinking. This doesn't come cheap. Servers, editors, trainers and web developers cost money.
Please consider supporting us on a regular basis as a recurring donor or a sustaining member.
Support Fair Observer
We rely on your support for our independence, diversity and quality.
Will you support FO's journalism?
We rely on your support for our independence, diversity and quality.
The IRS recognizes Fair Observer as a section 501(c)(3) registered public charity (EIN: 46-4070943), enabling you to claim a tax deduction.