Trump's immigration policy and activity on the border has created precisely the disaster he designed it to create. The Daily Devil's Dictionary reports. 
In his assessment of the logic (or illogic) of US President Donald Trump's obsessive effort to wall off the US-Mexico border, David Miliband, head of the International Rescue Committee (IRC), has invented one of the most useful expressions not just for characterizing Trump's strategy, but also for describing any number of political initiatives engaged by leaders across the globe. The practice has been adopted by both autocrats and elected heads of state, but it always looks and feels more like despotism.
The IRC has just released a report with the title "Disorder by Design: A Manufactured US Crisis."
Here is today's 3D definition:
Disorder by design:
The standard strategy of many governments in the 21st century that allows them to aggravate a tense situation sufficiently for the media to call it a crisis in order to justify extreme measures, often of a defensive or military nature, that will effectively increase the scope of their authority by canceling some of the traditional rights of ordinary people, including their own citizens
Contextual note
The Guardian offers its summary of the report's message: "In its new report Disorder by Design: A Manufactured US Crisis, IRC sets out the ways in which Trump policies designed to reduce the numbers of immigrants entering the US illegally have backfired, contributing to the surge in Central American asylum seekers."
But The Guardian may have missed the point. From Trump's point of view, the strategy hasn't backfired. On the contrary, it has achieved its main purpose of demonizing the people and nations from whom Trump promises to protect Americans. Without the "hordes" clamoring for safety due to the precarious conditions of life in the Northern Triangle, why would anyone accept to spend money on a wall or condone Trump's military posturing?
Ideally, the more impoverished asylum seekers show up at the border, the easier it is for Trump to mobilize the resources necessary to keep them out. He can count on the media's complicity in failing to remind the public that the conditions from which these people so desperately want to escape are largely a result of US foreign policy over decades. From Dwight Eisenhower to Donald Trump, every administration has actively undermined all popular movements and backed sanguinary dictators favorable to US business interests. The mainstream media never covers the past.
Miliband has put his finger not just on the obvious problem with Trump's immigration policy, but also on what many see as a global trend in political decision-making. "Bad policy already runs the risk of bad outcomes, and the fear then is that bad outcomes induce even worse policy," Miliband tells us, adding that this is done by design, not just bad luck.
Naomi Klein formulated a concept reflecting a similar logic, which she called "the shock doctrine." She sees the design of crises and the exploitation of natural disasters as cynical opportunities for removing essential services linked to the public interest from the government, creating opportunities of profit handed over to the private sector.
Miliband is suggesting something whose implication may be even more sinister. Behind Trump's actions at the border, he sees the of aim of domination of foreign nations through deprivation and humiliation. Trump's one-track mind is applying in the case of asylum seekers the same logic that underlies his policy of sanctions, which consists of asserting US authority over other governments by punishing ordinary people. By crippling or threatening to cripple the economic margin of maneuver of national governments, he can bend them to the will of the United States. The key to success is that people will suffer.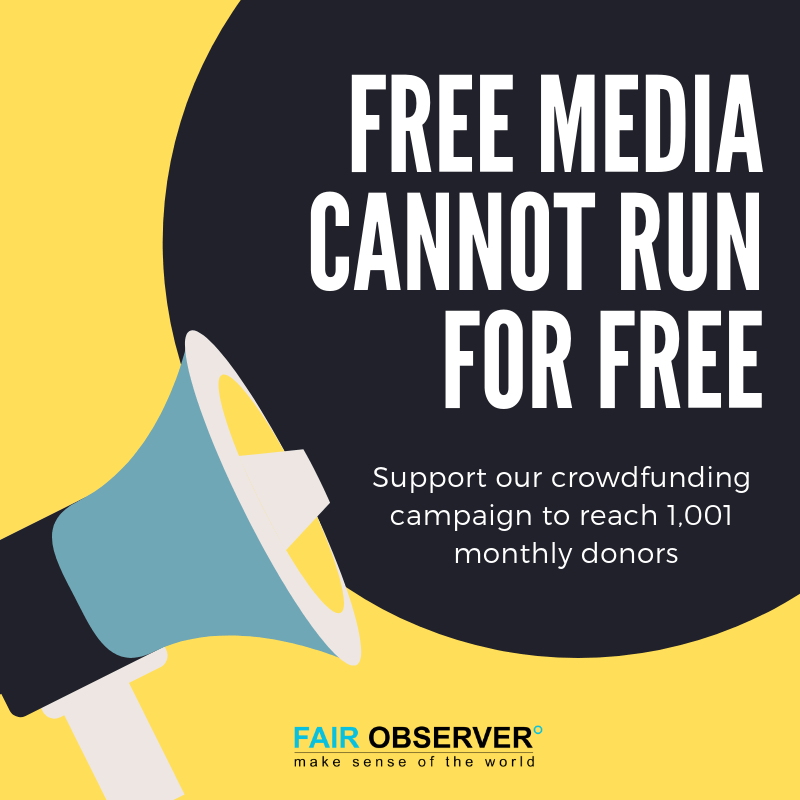 Where Klein saw a clever strategy for privatizing the response to human needs, Miliband suggests that Trump's actions represent an attempt to pervert democracy outside of the US. This reflects President Trump and National Security Adviser John Bolton's general approach to Latin America, playing out even more dramatically in Venezuela, where the Trump administration has been desperately seeking to effectuate regime change through a combination of sanctions, pressure on allied nations unwilling to oppose the will of the US for fear of excommunication and the usual invisible, behind-the-scenes CIA skullduggery.
Historical note
David Miliband has been honing the concept of disorder by design for some time. In 2013, reflecting on the chaos of the Bush-Blair years that culminated with the financial crisis in 2008, he wrote in New Statesman: "[T]here are four key global changes under way that explain why this feels like a decade of disorder." It makes sense today, six years later, to reflect on the four changes he cited.
The first change he mentions is "corruption scandals." Corruption in politics has of course always existed. But it has now become not just a way of life for politicians, but a system of oligarchic government, which actually means there are fewer visible scandals. Corruption has become the algorithm at the heart of the political operating system. Donald Trump is a study in corruption, and yet that obvious fact has not weakened his presidential authority. Prime Minister Benjamin Netanyahu has just won an election for a fifth term in Israel, even though the voters knew that he is about to be indicted on three separate charges of corruption, "for bribery, fraud and breach of trust."
Miliband then mentions "political systems that, for too many people, have lost their capacity to engage and include." The people no longer trust their governments or even identify with the parties that claim to represent their interests. The ongoing implosion of all the traditional parties in the UK, the US, France, Italy and Israel — to cite only those obvious examples — has never been more obvious.
Then he cites his third factor: "Party systems are controlled by small groups … Big money creates a sense of popular disempowerment." Just think of the Bernie Sanders effect in the US or the yellow vests in France. The feeling of disempowerment has begun to find ways of expressing itself.
Finally, he mentions this, which everyone in the UK can appreciate in a way that wasn't possible in 2013: "Parliaments are gridlocked and enfeebled."
Even Prime Minister Theresa May might agree to that one.
*[In the age of Oscar Wilde and Mark Twain, another American wit, the journalist Ambrose Bierce, produced a series of satirical definitions of commonly used terms, throwing light on their hidden meanings in real discourse. Bierce eventually collected and published them as a book, The Devil's Dictionary, in 1911. We have shamelessly appropriated his title in the interest of continuing his wholesome pedagogical effort to enlighten generations of readers of the news.] 
The views expressed in this article are the author's own and do not necessarily reflect Fair Observer's editorial policy.
For more than 10 years, Fair Observer has been free, fair and independent. No billionaire owns us, no advertisers control us. We are a reader-supported nonprofit. Unlike many other publications, we keep our content free for readers regardless of where they live or whether they can afford to pay. We have no paywalls and no ads.
In the post-truth era of fake news, echo chambers and filter bubbles, we publish a plurality of perspectives from around the world. Anyone can publish with us, but everyone goes through a rigorous editorial process. So, you get fact-checked, well-reasoned content instead of noise.
We publish 2,500+ voices from 90+ countries. We also conduct education and training programs on subjects ranging from digital media and journalism to writing and critical thinking. This doesn't come cheap. Servers, editors, trainers and web developers cost money.
Please consider supporting us on a regular basis as a recurring donor or a sustaining member.
Support Fair Observer
We rely on your support for our independence, diversity and quality.
Will you support FO's journalism?
We rely on your support for our independence, diversity and quality.
The IRS recognizes Fair Observer as a section 501(c)(3) registered public charity (EIN: 46-4070943), enabling you to claim a tax deduction.