December 10, 2018 16:11 EDT
In this edition of The Interview, Fair Observer talks to Brahma Chellaney, a prominent Indian intellectual and author.
Bordered by the Indian Ocean, the Arabian Sea and the Bay of Bengal, India is the second most populous country and, arguably, the biggest democracy in the world. The World Bank and the International Monetary Fund recognize India as the sixth largest economy on the planet.
Despite significant economic growth in recent decades, India faces its own set of challenges. Poverty in India is still a serious concern, even though the country is no longer home to the largest number of poor people in the world; that country is Nigeria. However, figures show two-thirds of people in India live in poverty.
India's dynamic foreign policy and the willingness of countries to forge a close partnership with New Delhi as a nascent global power pose a serious challenge to a world order in which the US, Russia, China and the EU are competing for dominance. India's huge energy demands also mean that oil and gas producers have a difficult job vying with each other and satisfying the needs of the third biggest energy-consuming country in the world.
The efforts of Jawaharlal Nehru, the first prime minister of India who is referred to as the architect of Indian foreign policy, paved the way for the foundation of the Non-Aligned Movement (NAM) in 1961. India is a major member of the NAM and was its president from 1983 until 1986. Today, India maintains the same neutrality in international affairs, but tries to play an active role on the global stage through diversifying its economic partners, engaging in UN peacekeeping missions and keeping an eye on a possible permanent seat in the UN Security Council.
In this edition of The Interview, Fair Observer talks to Brahma Chellaney, a prominent Indian intellectual and author, about India's foreign policy, its economy and its relations with neighboring countries in South Asia.
The transcript has been edited for clarity.
Kourosh Ziabari: The International Monetary Fund's World Economic Outlook predicts that India will experience a 7.4% growth in its gross domestic product by 2019 and that the figure would be 7.7% for 2020. How has India achieved such remarkable economic growth that even surpasses the United States and China?
Brahma Chellaney: Ever since India embarked on economic reforms in the early 1990s, its GDP growth has accelerated. Under the government led by Prime Minister Narendra Modi's predecessor, Manmohan Singh, GDP growth surpassed 8% annually. Critics blame the Modi government's missteps, including demonetization of high-value currency notes and a hastily introduced goods and services tax, for slowing the economic growth. However, the government's tax and regulatory reforms, despite inflicting short-term pain, will likely help accelerate GDP growth in the medium to long-term.
India, however, needs to invest greater resources in education, human resources development and achieving autonomous technological capabilities in order to sustain economic growth in the years ahead.
Ziabari: International reports show that the number of ceasefire violations along the India-Pakistan border have increased significantly in 2017 and 2018. Do you think tensions will be alleviated between the two countries in the New Year, especially since the new Pakistani PM Imran Khan seems to be determined to make peace with India?
Chellaney: Pakistan has turned into the mecca of terrorism, even as its new leader promises a medina-like welfare state. In Pakistan, no prime minister has been allowed to complete a full five-year term. When a prime minister falls foul of the deep state, a bendable judiciary, opposition and bureaucracy are used to smear the leader's reputation and oust him or her. Every prime minister has been thrown out on charges of corruption and incompetence.
The latest military-engineered election has changed little in Pakistan, a country still struggling to be at peace with itself. The Pakistani military will remain the puppet master calling the shots from behind the scenes, with Imran Khan as its newest puppet. Khan is a supporter of the military-backed jihadists and Islamists and a religious zealot himself.
Today, caught in mounting debt to China, Pakistan is in desperate need for an international bailout package. Against this background, Pakistan will remain a principal source of regional instability and the fountainhead of transnational terrorism. Its neighbors, including India and Afghanistan, can expect little change in Pakistan's behavior.
Ziabari: How do you think the US and European Union's sanctions on Russia will impact India's economy? Do you think there will be a problem in Russia's delivery of the S-400 air defense system to India as a result of US sanctions that make the payments difficult?
Chellaney: A generation after the Cold War ended, the Washington power elites remain obsessively fixated on Russia, although Russia's economy today is just one-tenth the size of China's and its military spending one-fifth of China.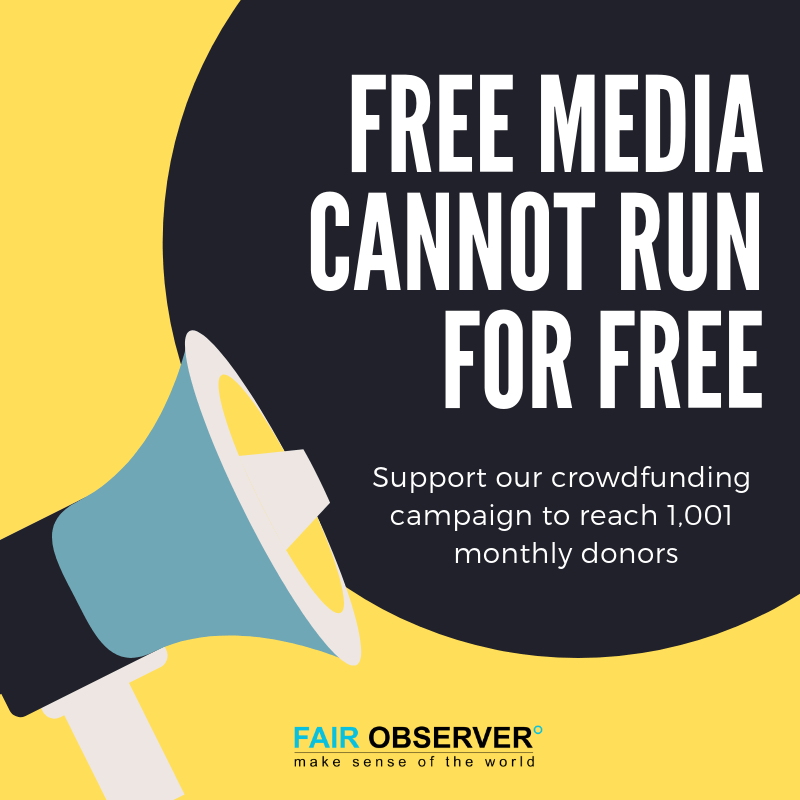 Pressure from the power elites has led the Trump administration to impose at least four rounds of sanctions on Russia this year, even though better relations with Moscow can help to put discreet checks on China's overweening ambitions. With its vast economic and military potential, China clearly represents the main threat to US interests. But the current US sanctions-centered approach to Russia has only compelled Moscow to pivot to China.
The US sanctions policy toward Russia also has gratuitously introduced a major irritant in relations with India. A new Russia-centered sanctions law took effect earlier this year. Known as Countering America's Adversaries Through Sanctions Act, or CAATSA, the law uses the sanctions threat to wean countries off their craving for Russian weapons, so as to boost America's own arms sales.
The US has already overtaken Russia as the top arms seller to India. Yet it is seeking to pressure India to reduce its imports of Russian arms. India cannot snap its defense ties with Moscow. With India going ahead with a deal to buy the interceptor-based S-400 Triumf air and anti-missile defense system from Russia, the US Congress has passed a waiver legislation that grants India conditional waiver from the CAATSA sanctions.
Ziabari: Iran is the second largest supplier of India's oil. Will the new US sanctions against Iran affect the oil trade between Tehran and New Delhi? Is India legally bound to follow the US lead in sanctioning Iran and cutting off crude imports from that country?
Chellaney: India, the second-largest importer of Iranian oil after China, is a major victim of the new US sanctions against Iran and Russia. By implicitly mounting two-pronged pressure on New Delhi on energy and defense fronts, Washington has implicitly underscored the risks for India of pursuing a foreign policy too closely aligned with America. By slapping a nation with punitive sanctions, the US seeks to block trade and financial activities with that country even by other states.
Such extraterritorial sanctions — which it euphemistically labels "secondary" sanctions — run counter to international law. Yet the US uses its unmatched power to turn national actions into global measures. As the world's reserve currency that greases the wheels of the global financial system, the US dollar arms America with tremendous leverage, making US sanctions the most powerful in the world. Most international transactions, from banking to oil, are conducted in US dollars. Through its Iran-related sanctions, the US wants to influence the energy-import policy of India, which currently imports more than three-fourths of its crude oil requirements.
Washington is seeking to sell more oil and gas to India and also encouraging it to switch imports from Iran to Saudi Arabia and other US allies. Iran, however, has long been a major oil supplier to India. It will remain important for India's energy-import diversification strategy. The US has granted India a six-month waiver from its Iran-related oil sanctions. In addition, the US has granted a waiver for India's Pakistan-bypassing transportation corridor to Afghanistan via Iran. India is investing in modernizing the Chabahar Port.
Ziabari: In one of your articles, you praised President Donald Trump for trying to contain China and hold back its economic and political growth. However, many observers say that Trump is not a reliable politician and does not take advice from the right people. Do you think his lack of political experience will be a threat to India as well?
Chellaney: Any US administration's policies are made not just by the president, but by the whole team the president has assembled. Washington is more polarized and divided than ever before. Yet it is highly significant that, in this environment, a bipartisan consensus has emerged that the decades-old US policy of "constructive engagement" with China has failed and must be replaced with active and concrete counteraction. The China policy change that is underway, therefore, will likely outlast the Trump presidency because it will be difficult for a successor to reverse it and go back to trustful cooperation.
The policy change does not seek to hold back China's economic and political growth. Rather the aim is to make China comply with international rules and norms. For example, China has long been cheating on World Trade Organization rules. It is important to note that, despite the policy change that is underway, China still gets a free pass on human-rights abuses — from holding a million or more Muslims from Xinjiang province in internment camps to carrying out the forced disappearance of the Interpol chief. Had Russia set up such internment camps, the US response would likely have been swift and resolute.
Ziabari: You once wrote that the President Trump has tried to "sweet-talk autocratic leaders," such as North Korea's Kim Jong-un and Russia's Vladimir Putin, to encourage them to make concessions. Why didn't he try this option with Iran? Has his flattering of the North Korean and Russian leaders paid off?
Chellaney: Trump lavishes praise on autocratic foreign leaders that he is seeking to extract concessions from. Even more than Kim and Putin, Trump has lavished praise on China's Xi Jinping, calling him "terrific" and "great." In fact, Trump has flattered no foreign leader like Xi. Yet Trump has managed so far to wrest no major concessions from Xi. This explains why the Trump administration has targeted China with tariffs on $250 billion worth of imports into the US from there. As for Kim, Trump has succeeded in getting North Korea to declare a moratorium on nuclear and missile testing. But Kim is unlikely to give up his nuclear weapons entirely. That is the only card he has.
Trump's Iran policy is short-sighted and counterproductive to US interests. His Iran policy has been greatly influenced by neoconservatives, election campaign donors and other interests tied to Israel. This explains why Trump has pursued a hardline approach toward Iran.
Ziabari: There are indications that India is forfeiting its democratic values. India's top court recently ruled that movie theaters should be required to play India's national anthem before screening movies. The country ranks 140th out of 179 in Reporters Without Borders' Press Freedom Index. It is 136th out of 163 countries in the Global Peace Index 2018. Restrictions on Muslim Indians continue to remain in place. Do you think India is still a serious democracy?
Chellaney: You must be kidding that there are "restrictions" on Muslims in India. Muslims have the same rights as Hindus, Buddhists, Christians and others in India. Discrimination on the basis of religion is unlawful under the Indian Constitution.
India's democracy certainly faces challenges. But it is widely recognized that India remains a robust and proud democracy. In fact, it is the world's largest democracy. The Indian media is one of the freest in the world. And Indian courts regularly overturn government decisions. If anything, India has an activist judiciary that often appears to encroach on the executive branch's powers.
In fact, democracy remains India's greatest asset. While the concepts of democratic freedoms and the rule of law are normally associated with the West, India can claim ancient traditions bestowing respect to such values. Basic freedoms for all formed the linchpin of the rule in third century BC of Emperor Ashoka who, as Nobel laureate Amartya Sen has pointed out, "did not exclude women and slaves as Aristotle did."
Ziabari: What are the foreign policy priorities of India as of today? What is India doing to in order to consolidate its international standing and fulfill its economic aspirations?
Chellaney: India has long cherished "strategic autonomy" and sought to stay clear of formal alliances. That won't change. However, in an important shift, India is moving from nonalignment to multi-alignment. This means India is going from its long-held nonalignment to a contemporary, globalized practicality.
There is an important difference between nonalignment and multi-alignment. Nonalignment implies a passive stance as a bystander. Multi-alignment, by contrast, permits an active and participatory role, including building close strategic partnerships with likeminded powers.
India cannot, and will not, be a lackey of any power. Because of its geographical location, India is the natural bridge between the West and the East, and between Europe and Asia. Through forward thinking and a dynamic foreign policy, India is seeking to truly play the role of a bridge between the East and the West, including serving as a link between the competing demands of the developed and developing worlds. At a time of heightened geopolitical tensions, the world needs such a bridge-builder.
Ziabari: Prime Minister Narendra Modi visited Rwanda and Uganda earlier this year before traveling to South Africa for the BRICS summit. Historically, there have been large Indian communities across Africa that contributed to the economic prosperity of the continent. What is India looking for in rejuvenating its relations with African nations?
Chellaney: India has had close historical ties with Africa. Today, India is seeking to revive those ties. Take the Indian Ocean region, which extends from Australia to eastern and southern Africa. The Indian Ocean region has emerged as the world's major energy and trade seaway, as well as the center of the challenges of the 21st-century world — from terrorism and extremism to piracy and safety of sea-lanes of communication.
India is attempting to build a web of strategic partnerships with key littoral states in the Indian Ocean rim. The partnerships incorporate trade accords, defense and energy cooperation, and strategic dialogue. India's focus includes countries adjacent to chokepoints such as the Strait of Hormuz, Iran; the Strait of Malacca, namely Singapore, Indonesia and Malaysia; the Bab el-Mandab, which are Djibouti and Eritrea; and the Cape of Good Hope and the Mozambique Channel, namely South Africa and Mozambique.
Not only does BRICS include South Africa, but also South Africa's president will be the chief guest at India's Republic Day parade on January 26, 2019. India and Japan have launched the Asia-Africa Growth Corridor in partnership with a number of African countries. In addition, India has offered a $1 billion line of credit to African countries.
The views expressed in this article are the author's own and do not necessarily reflect Fair Observer's editorial policy.
For more than 10 years, Fair Observer has been free, fair and independent. No billionaire owns us, no advertisers control us. We are a reader-supported nonprofit. Unlike many other publications, we keep our content free for readers regardless of where they live or whether they can afford to pay. We have no paywalls and no ads.
In the post-truth era of fake news, echo chambers and filter bubbles, we publish a plurality of perspectives from around the world. Anyone can publish with us, but everyone goes through a rigorous editorial process. So, you get fact-checked, well-reasoned content instead of noise.
We publish 2,500+ voices from 90+ countries. We also conduct education and training programs on subjects ranging from digital media and journalism to writing and critical thinking. This doesn't come cheap. Servers, editors, trainers and web developers cost money.
Please consider supporting us on a regular basis as a recurring donor or a sustaining member.
Support Fair Observer
We rely on your support for our independence, diversity and quality.
Will you support FO's journalism?
We rely on your support for our independence, diversity and quality.
The IRS recognizes Fair Observer as a section 501(c)(3) registered public charity (EIN: 46-4070943), enabling you to claim a tax deduction.