December 13, 2018 09:26 EDT
In US policy, business almost always trumps democratic aspirations, human rights and the needs of the environment. This is the second of a two-part series.
George W. Bush, the president, solved the problem Bush, the candidate, had highlighted: his ignorance of the identity of "them." Instead of an ideology (communism), he designated a method of political expression: terrorism, or violence with a political purpose aimed at creating a climate of fear. Bush boldly declared that the US was engaged in a war not on a nation or a group of people, but on terror itself. This enabled him to avoid the more accurate perception that the US was surreptitiously engaged in a war on the Muslim world, fulfilling the prediction of Samuel Huntington in his 1993 Clash of Civilizations.
Despite the inclusive label, the US was not taking arms against any and every perpetrator of terror — a list that could include many of its allies, and even America itself — but against specific groups or nations accused of harboring or abetting those groups that challenge the principles of Western civilization. The techniques used to combat this terror resembled less and less conventional warfare, and increasingly terror itself. With the development and massive employment of drones, the war on terror became a war of terror.
The military-industrial complex had provided the commanders-in-chief with a new technology designed less to effectuate the "surgical strikes" the Obama administration later claimed as its absolution than to spread terror in the targeted regions. Any honest observer should acknowledge, as does Conor Friedersdorf, writing in The Atlantic that "the spread of this characterization is a triumph of propaganda." Some people have pointed to the terror that would result if drones were to be launched on Western cities. But that fear doesn't appear to have convinced them that's precisely what their own government is doing, and on a grander scale, in at least seven different nations.
Making the Most of Terror
The war on terror has proved to be the greatest boon to the growth of authoritarianism across the globe. It coincides with the growth of an ideology based on the belief that people in democracies are more interested in security than protecting civil rights. It therefore claims to be responding to the desires and needs of those people. The policy of endowing a nation or a city with both the means of surveillance and the equipment required to suppress terrorism has opened a door that allows every government in the world to accuse those who challenge or threaten to challenge its policies, even with democratic means, of being terrorists, subject to arrest, imprisonment or eventually physical elimination.
Saudi Arabia, for example, routinely brands any person or even nation (Qatar, for example) critical of its policies or mildly friendly with its declared enemies (Iran) as guilty of promoting or defending terrorism. Earlier this year, a UN report highlighted what The Intercept describes as a "trend of branding human rights defenders, activists, and experts as 'terrorists', in Algeria, Egypt, the Philippines, and elsewhere."
In their book The "Terrorism" Industry, published in 1990, Edward Herman and Gerry O'Sullivan trace the post-World War II development of the very real political strategies focused on the question of terrorism. They noticed a serious crescendo during the Reagan years, anticipating its transformation into a full-blown ideology more than a decade later under Bush II. They note an important turning point following Reagan's election: "the 1981 announcement by Secretary of State Alexander Haig that terrorism was going to replace 'human rights' as the main foreign policy concern of the Reagan administration."
---
War has now been built into the foundation of the economy. It's the concrete pillar that stands next the increasingly abstract and fundamentally speculative one we call financial markets. 
---
This served a dual purpose. First of all, it deflected attention from the patent violation of human rights by many of the administration's favorite allies, diverting the blame to the groups challenging these pro-American authoritarian regimes. More significantly, it instilled the idea that Western civilization was threatened by an ill-defined menace in the form of terrorist groups, setting a precedent that Bush Jr. would exploit with his "global war on terror."
The authors describe in detail how, more than a decade before George W. Bush, a "terrorism industry" arose as a logical emanation of the military-industrial complex. One of the key factors that allowed the great ideological shift toward a focus on terrorism was the response of US media, who quickly appreciated its potential to attract eyeballs. In the 2012 book, Media and Terrorism: Global Perspectives, Justin Lewis, head of the School of Journalism, Media and Cultural Studies at Cardiff University, analyzes Terrorism and News Narratives. The publisher offers a summary of his thesis by saying that "terrorism provides a particularly potent story for the media as it has all the perfect ingredients — violence, drama, fear, and so on — to make great news."
As a result, according to Lewis, news values over-represent terrorism as a threat, echoing the message required by Western politicians needing to justify a war (George W. Bush, Tony Blair, Hillary Clinton, Mohammed bin Salman, Nicolas Sarkozy and François Hollande, to name a few in the West). The socialized economy of capitalist nations' defense budgets keeps entire manufacturing industries prosperous: Lockheed Martin, Raytheon, Boeing, Northrop and now Amazon, among many others. It also contributes mightily to developing the entire technology sector "by promoting innovation and new technology." Because these industries export and create jobs, they are perfectly positioned to blackmail decision-makers in Washington.
Terror Economy
How it works and how much it spends is far from clear. An article in Forbes confirms that a recent audit revealed that "$21 trillion in unsupported adjustments have been reported for the Department of Defense and the Department of Housing and Urban Development for the years 1998-2015." The amount alone is mind-boggling. The author expresses his alarm and complains that "Taken together these reports point to a failure to comply with basic Constitutional and legislative requirements for spending and disclosure."
These facts demonstrate the complexity and opacity of anything that has to do with the actual finances of the military-industrial complex, which, we must remind ourselves, represents much more than just defense budgets. Under past administrations, the facts and figures that demonstrate the US economy's dependence on a culture of war and terror were rarely evoked. Only keen observers and analysts were aware of the level of impact. As with so many things that have appeared since Donald Trump's inauguration, issues concerning the political economy that were routinely hidden from the public and avoided by the media are now appearing in broad daylight.
Trump's evasive and defensive reaction to the Jamal Khashoggi affair — insisting that it's about money and jobs rather than morals — has the extreme merit of exposing how the economic logic of terror has been working all along. He tells us — mightily exaggerating, according to Politifact — that his forecast sales of weapons and other goods to Saudi Arabia represent hundreds of billions of dollars and of course countless jobs. In Trump's words, "we have $450 billion, $110 billion of which is a military order, but this is equipment and various things ordered from Saudi Arabia, $450 billion. I think it's over a million jobs."
The figures as such make no sense, but Trump's message tells us more than previous administrations were willing to admit. Dealing with Saudi Arabia has always been about dollars. Trump's royalty to Riyadh tells us what we should already have known — that in US policy, business almost always trumps democratic aspirations, human rights and the needs of the environment.
Keeping the Pot Boiling
Coming back to the question of return on investment, it becomes clear that there are serious reasons for keeping war-related industries thriving. Not only do they provide jobs corresponding to domestic defense needs, but they create opportunities to export the equipment and materiel of war, boosting the trade balance. Trump calls that win-win. The populations in Pakistan, Yemen, Iraq, Afghanistan, Somalia and elsewhere, who feel the physical effect of those exports on the battlefield or in the intimacy of their homes, see it as lose-lose — the source of continuing and seemingly never-ending terror in their lives.
Major Danny Sjursen, a military historian, echoing the Watson Institutes report, reminds us that "The United States military is actively fighting in seven Muslim-majority countries; and no one cares." The media have more exciting things to do than remind the US population that the Bush and Obama wars are still continuing and still costing lives. Perhaps the most salutary effect of the Khashoggi affair is that it has put the spotlight not just on MBS as a murderer of journalists, but in so doing has drawn attention to his other, and much bigger, crime — the war in Yemen — which has been supported by the two most recent presidents, but which the media have consistently sidelined and the public ignored.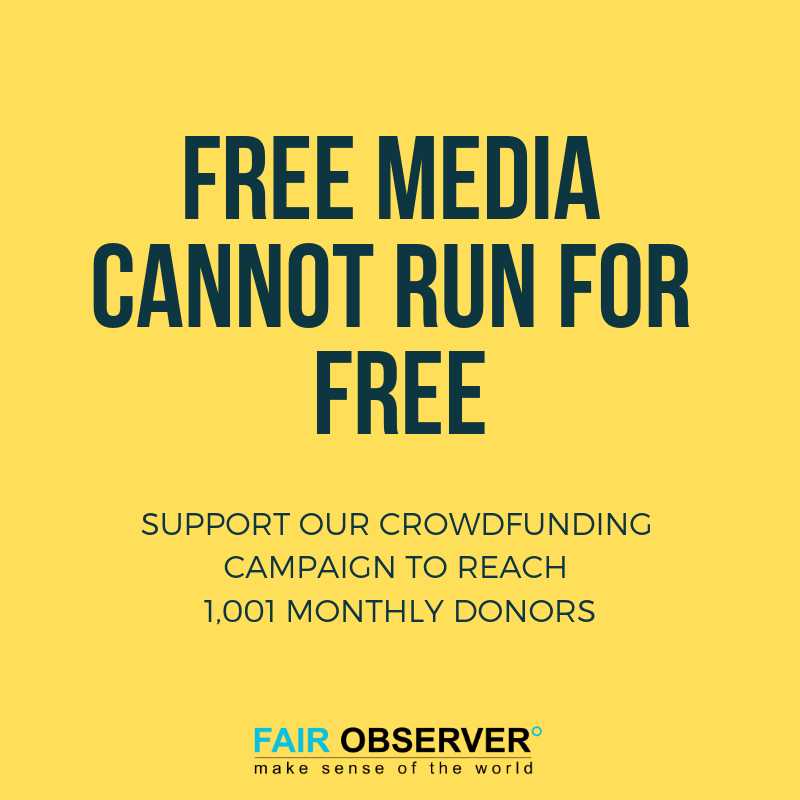 Major Sjursen accuses both Republican and Democrat politicians of practicing "the politics of distraction" while "basking in the embarrassment of riches bestowed upon them by the corporate military industrial complex." There's something about the war on terror that they all seem to like. "Give us each day our daily dead," they might pray, since nobody seems to care who and how many have died. As an officer who did several years of active duty in the perpetual wars in the Middle East and witnessed the death of fellow soldiers and friends, Sjursen sees no end to the pattern: "no one — not the generals or the civilian policymakers — seems capable of articulating an exit strategy. Maybe there just isn't any."
Could it be that there is in fact no desire to exit, and even a perceived duty to stay? War has now been built into the foundation of the economy. It's the concrete pillar that stands next the increasingly abstract and fundamentally speculative one we call financial markets. A third pillar — the pillar of verbiage provided by the media — completes the façade. Just as banks can be too big to fail, war itself has become too big to fail. Not too big to lose, but too big to remove from the landscape. "Lose a war, start another" has become the modus operandi. Or rather, lose a war but don't declare defeat. If the enemy is terror itself, the more terror the economy itself generates — through growing inequality, political intimidation, increasing authoritarianism and technological perfection of the instruments of terror developed for the military to quell terror — the more we can be assured that there will be acts of terror to continue quelling.
General Smedley Butler, a decorated hero of wars of neo-colonial conquest for the US and its corporate interests in the battlegrounds as diverse as the Philippines, Cuba, Mexico, China and Honduras, wrote a book called War Is a Racket after realizing in whose interests he had been unwittingly employed for decades. A modern Smedley Butler would most likely be tempted to call his book, War on Terror Is the Ultimate Racket.
We are still prosecuting Bush's global war on terror, with no end in sight and a possible war with Iran on the horizon. Remembering Abraham Lincoln's description of government as "by the people, of the people and for the people," we may be tempted to describe the overall foreign policy of the US today, as applied by all presidents — not just Trump — as the war on terror, of terror and for terror.
The views expressed in this article are the author's own and do not necessarily reflect Fair Observer's editorial policy.
For more than 10 years, Fair Observer has been free, fair and independent. No billionaire owns us, no advertisers control us. We are a reader-supported nonprofit. Unlike many other publications, we keep our content free for readers regardless of where they live or whether they can afford to pay. We have no paywalls and no ads.
In the post-truth era of fake news, echo chambers and filter bubbles, we publish a plurality of perspectives from around the world. Anyone can publish with us, but everyone goes through a rigorous editorial process. So, you get fact-checked, well-reasoned content instead of noise.
We publish 2,500+ voices from 90+ countries. We also conduct education and training programs on subjects ranging from digital media and journalism to writing and critical thinking. This doesn't come cheap. Servers, editors, trainers and web developers cost money.
Please consider supporting us on a regular basis as a recurring donor or a sustaining member.
Support Fair Observer
We rely on your support for our independence, diversity and quality.
Will you support FO's journalism?
We rely on your support for our independence, diversity and quality.
The IRS recognizes Fair Observer as a section 501(c)(3) registered public charity (EIN: 46-4070943), enabling you to claim a tax deduction.