December 11, 2018 12:28 EDT
Ambassador Nikki Haley reminds us that rhetoric is the foundation of the White House's diplomacy.
Nikki Haley, who will soon be leaving her brief stint as US ambassador to the United Nations, provides some much-needed insight into Donald Trump's art of the diplomatic deal. In an interview with The Atlantic, Haley summed up the events in 2017 that led up to the 2018 face-to-face between President Trump and North Korean leader Kim Jong-un and more particularly the speech in which Trump promised to rain "fire and fury" on North Korea: "[T]he president had really strengthened his rhetoric at that point."
Here is today's 3D definition:
Rhetoric: 
1. Traditionally, the mastery of style as the key to the art of persuasion
2. For Donald Trump: bombast
Contextual note
Haley describes the inner workings of Trump's innovative methods of diplomacy as a variation on the classic good cop/bad cop approach, which gave her the opportunity to play the good cop. She describes the process: "I bounced it off the president's rhetoric, saying 'I can't stop him. I'm not gonna be able to control him. We've gotta get this done.'"
She fails to ask herself the deeper question concerning the value and permanence of what the two partners manage to get "done." Scare tactics often can achieve at least what appear to be positive short-term results, particularly with people who have no means of countering those tactics. But they also push those who have the ability to acquire the means to resist and prepare for a long-term response.
That's why in diplomacy, scare tactics rarely work and more frequently produce blowback. The Trump-Haley duo used the factor of unpredictable behavior to bully those they should have been trying to persuade into a position that appeared positive in the news cycle. But the "partner" in negotiations (treated like an adversary) will typically prepare a position that will only become clear at an unpredictable moment in the future, undermining the supposed gains of the initial negotiation.
In the world of real estate, scare tactics will probably work 90% of the time because, as the proverb says, property or "possession is nine-tenths of the law." Once the deal is done and ownership is established or transferred, the deed is indeed "done." But in diplomacy there is no deed that can't be undone because, outside of war or outright cession of territory, there is never a transfer of ownership.
Historical note
In her interview, Haley reveals that she is still part of the Trump team, but that may not last beyond December. On the Jamal Khashoggi affair, she had this to say, which sums up the official Trump position, while at the same time fraught with ambiguity: "No, we don't condone this; no, we're not going to continue to be your partners if you continue to use thuggish behavior." She then added: But you know what? That country is our complete partner when it comes to fighting Iran, and our only real partner when it comes to fighting Iran, so it's a balancing act, but you have to do both."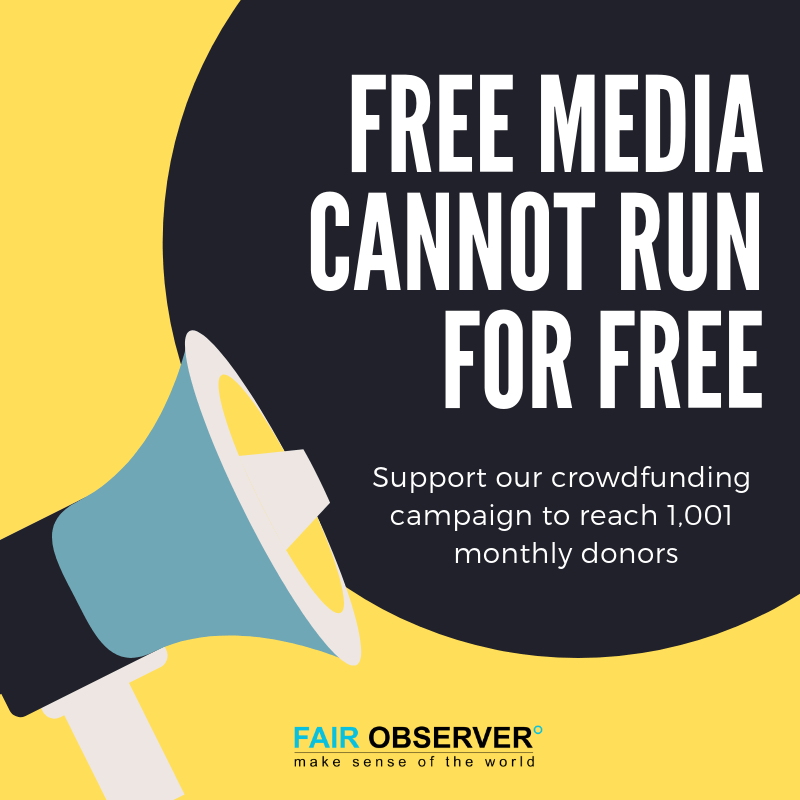 She starts out by appearing to endorse Republican Senator Lindsey Graham's stance — "we're not going to continue to be your partners" — but immediately qualifies it with "if you continue." The White House has made it clear: The next journalist butchered in an embassy will be the last straw. Haley then reveals the fundamental logic of the administration's position: Saudi Arabia is "our only real partner" in "fighting Iran," a nation with which the US is not at war, although John Bolton is. Saudi Arabia, with its killer instinct, has been given the essential role of bad cop to America's good cop, who always promotes democracy and human rights (except with its "real partners").
Having decided to leave her post at the end of December, Haley will probably begin to speak more freely of her experiences as an official of Trump's White House, possibly even penning a self-aggrandizing book about her tenure as ambassador with only a few diplomatically measured barbs undermining Trump's legitimacy. Rumor has it that she may be preparing to run for president herself in 2020, possibly even confronting Trump in the primaries, but more realistically stepping up at the moment when the president will become so weakened by his impeachable offenses that, even if not indicted or impeached, he will no longer be in a position to seek a second term.
Among Trump's offenses, not against the law, but against democracy itself is his insistence on nominating the most unqualified people for the most serious jobs, starting from day one with his son-in-law, Jared Kushner. Now, after two months of seeking the most unqualified person for Nikki Haley's abandoned job, Donald Trump has finally designated the replacement at the United Nations, Heather Nauert. Here is how The New Yorker sums up her qualifications: "[A] former Fox News anchor whose experience in American diplomacy is limited to nineteen months as the spokeswoman for the State Department." Former UN Ambassador Tom Pickering simply calls her "an inexperienced-in-foreign-policy nominee."
*[In the age of Oscar Wilde and Mark Twain, another American wit, the journalist Ambrose Bierce, produced a series of satirical definitions of commonly used terms, throwing light on their hidden meanings in real discourse. Bierce eventually collected and published them as a book, The Devil's Dictionary, in 1911. We have shamelessly appropriated his title in the interest of continuing his wholesome pedagogical effort to enlighten generations of readers of the news.] 
The views expressed in this article are the author's own and do not necessarily reflect Fair Observer's editorial policy.
For more than 10 years, Fair Observer has been free, fair and independent. No billionaire owns us, no advertisers control us. We are a reader-supported nonprofit. Unlike many other publications, we keep our content free for readers regardless of where they live or whether they can afford to pay. We have no paywalls and no ads.
In the post-truth era of fake news, echo chambers and filter bubbles, we publish a plurality of perspectives from around the world. Anyone can publish with us, but everyone goes through a rigorous editorial process. So, you get fact-checked, well-reasoned content instead of noise.
We publish 2,500+ voices from 90+ countries. We also conduct education and training programs on subjects ranging from digital media and journalism to writing and critical thinking. This doesn't come cheap. Servers, editors, trainers and web developers cost money.
Please consider supporting us on a regular basis as a recurring donor or a sustaining member.
Support Fair Observer
We rely on your support for our independence, diversity and quality.
Will you support FO's journalism?
We rely on your support for our independence, diversity and quality.
The IRS recognizes Fair Observer as a section 501(c)(3) registered public charity (EIN: 46-4070943), enabling you to claim a tax deduction.