In this edition of The Interview, Fair Observer talks to John L. Harper, the Kenneth H. Keller professor of American foreign policy at Johns Hopkins University.
Foreign policy decisions made by US President Donald Trump have been widely criticized both by his opponents and his own party. Commentators are struggling to make sense of many of his actions, including upending international agreements of which the United States has been an integral part for decades. President Trump's overhaul of America's foreign policy seems to stem from a perception by the current administration for a need to transform how the United States conducts itself abroad.
As Jeanne Morefield writes in the Boston Review, Trump's foreign policy reflects "like a funhouse mirror, a twisted image of U.S. imperialism." His speeches are a far cry from the eloquence of Barack Obama and are imbued with "racist rants, crass opportunism, nationalist tirades and unrestrained militarism." For many pundits, Trump's erratic foreign policy decisions, his demonization of America's historic allies and his outreach to authoritarian leaders like Rodrigo Duterte and Kim Jong-un have undermined the traditional global leadership role the United States has assumed for many years.
During his two years in office, Trump has withdrawn the United States from the Trans-Pacific Partnership, the Paris Climate Agreement, the Intermediate-Range Nuclear Forces Treaty and the Iran nuclear deal. He instituted a travel ban against the citizens of several Muslim countries, renegotiated the North American Free Trade Agreement (NAFTA) in order to "modernize" it, reinstated restrictions on trade with Cuba, wound down the Deferred Action for Childhood Arrivals policy for the children of immigrants, and recognized Jerusalem as the capital of Israel. These are just some of the more notable developments in President Trump's foreign policy.
However, Trump's foreign policy credentials and his norm-breaking have been tested more seriously on a number of occasions, and the promised wins were not as extraordinary as expected. The administration's aggrandizement of the underwhelming Trump-Kim summit on the denuclearization of the Korean Peninsula as a big success and allowing the brutal killing of The Washington Post journalist Jamal Khashoggi to go unpunished have laid bare the administration's lack of real clout in the international political arena.
The Teaching, Research, and International Policy project at the College of William & Mary, in collaboration with Foreign Policy magazine, conducted a survey of over 1,000 international relations scholars on America's standing in the world since President Trump took office. Over 93% of them believe that today, the United States is less respected by other countries; just 2.4% believe the US is respected more under Trump. This survey may well be a fair representation of America's place in the world after only half a term of Donald Trump's provocative foreign policy.
In this edition of The Interview, Fair Observer talks to John Harper, the Kenneth H. Keller professor of American foreign policy at Johns Hopkins University, about the different aspects of President Donald Trump's foreign policy and its impact on the US image in the world.
The text has been lightly edited for clarity.
Kourosh Ziabari: President Trump's catchphrase, even before coming to office, has been "America First." Maybe this is what has moved him to withdraw from many international agreements and organizations, including recently the UN's cultural and educational agency UNESCO. Do you think President Trump has been able to promote US national interests through his unilateralism and aggressive foreign policy?
John Harper: There is nothing inherently wrong with the notion of "America First." As Trump has correctly pointed out, all democratically-elected leaders make advancing the interests of their nations their first priority. That's what they were elected to do, and it would be odd indeed if they conducted themselves otherwise. But as your question suggests, Trump's methods — the crudeness and aggressiveness that are inherent in his character — have been counterproductive, calling into question US goodwill and reliability.
And he appears to believe that, practically as a matter of principle, sovereign nations should shun binding multilateral agreements and acting in concert to address problems like climate change that can't be addressed in any other way. This is foolish and illogical, since even a child can see that collective action — alliances being the classic example — in many cases may serve the interests and enhance the power and wellbeing of individual sovereign states.
Ziabari: What do you make of President Trump's recent announcement that the US troops will be withdrawn from Syria? His critics say he handed over a generous gift to Russia and Iran. Do you agree?
Harper: No, I don't agree. Russia and Iran are already installed in Syria, and the withdrawal of 2,000 US troops will make little difference to the actions of those two countries there. One could argue that it is a gift of sorts to Turkey, and a flagrant display of ingratitude to the Kurds, but Trump appears to have chosen to side with Turkey and to avoid a possible clash with it — a country which is, we sometimes forget, still an important ally of the US.
Trump's policy toward the Middle East is probably more similar to Obama's than people tend to think. He has basically continued Obama's approach to defeating ISIS. Obama, too, would have sooner or later withdrawn these troops, and of course he rejected the idea of a US intervention in Syria against Assad — correctly in my view. Trump, like Obama, wants to avoid further US military entanglement in the Middle East, and to further distance the US from the region. Arming Israel and Saudi Arabia to the teeth is not necessarily inconsistent with that goal.
Ziabari: President Trump's scornful treatment of US allies has been criticized by many commentators, former government officials and pundits in the United States. Why do you think he has adopted such an antagonistic attitude toward traditional partners like Canada and Germany?
Harper: It's useful to recall Trump's basic worldview, which can be summarized in three points. First: For decades, thanks to the illusions and incompetence of its leaders and the shrewdness and ruthlessness of other countries — allies as well as rivals — the US has been a victim of the present international system. Second: The Obama period in particular was one of weakness, appeasement and self-inflicted damage, which must be put right as soon as possible. Third: The world has entered a period of intensified competition among sovereign states in which the only law, at the end of the day, is the law of the strongest. That said, agreements and settlements are possible based on superior strength and bargaining skill.
Point one explains his attitude toward Canada and Germany. He genuinely believes what he says, but he also sees attacking these countries as a useful bargaining tool when it comes to negotiating with them. And his tough talk undoubtedly plays well with his base in the United States, consisting partly of people who see themselves — with some reason — as the losers from US foreign economic policy, as well as technological change, in the past 30 years.
Ziabari: The US withdrawal from the Iran nuclear deal created a huge rift between Washington and its allies in Europe. Trump never offered any alternative to the Joint Comprehensive Plan of Action (JCPOA), which was already working and to which Iran remains committed. How do you see the future of Iran-US relations in the light of the cataclysmic decision of President Trump on the Iran deal?
Harper: The good news for now is that, for all his bluff and bluster, I think Trump wants to avoid a war with Iran. Admittedly, this may not be true of people like [Secretary of State Mike] Pompeo and [National Security Adviser John] Bolton. I suspect that Iran will find a way to continue to export oil — to China and India, for example — and sooner or later the US will realize that the new policy is not going to produce a new negotiation and a better alternative to the JCPOA.
My hope is that Iran will be patient and keep a relatively low profile for the next several years. Trump will not be around forever, and US policy is likely to change. For one thing, Washington may realize that present US policy pushes Iran closer to Russia and China — not a positive result from the US point of view. One can even hope the Europeans will stand up to the US in an effective way on the issue of secondary sanctions. So far there is little evidence that they can or will do this, but where there is a will there is a way.
Ziabari: Do you think President Trump's controversial foreign policy decisions will lose him his popular base and pave the way for a Democrat such as Elizabeth Warren to replace him in 2020? Do you think of Trump ias a one-term president?
Harper: My guess is that if he is the Republican nominee in — this is by no means certain — and if the Democrats pick the right candidate, Trump will lose. The recent midterm elections suggest that many Republicans who voted for him may have tired of his bluster and buffoonery. And this was before the US stock market began to go south. Presumably, a number of his working class voters will ask themselves if they are better off in 2020, and the answer will be obvious. The US economy may well be in a recession by then. This said, I think someone like Warren would be a mistake because she'd have some of the same vulnerabilities that Hillary Clinton had.
I'm sorry to say it, but a better bet may be a white male who can win back working class and rural votes in Pennsylvania, Michigan and Wisconsin — battleground states where Obama had won twice. Since [Bernie] Sanders and [Joe] Biden are too old, Senator Sherrod Brown of Ohio might be the man.
Ziabari: How was President Trump's decision to recognize Jerusalem as the capital of Israel and move the US embassy there viewed by the American public? Is Trump's strategy on the Israeli-Palestinian conflict helpful to the situation?
Harper: I believe that a majority of Americans supported it, but few were particularly interested or cared about the implications. It was obviously a payoff to Trump's pro-Likud and pro-settler supporters, both Jews and Evangelical Christians. Trump reportedly has a peace plan, prepared partly by his son-in-law Jared Kushner, but it has yet to see the light of day, and the chances of its being implemented are almost nil.
After the previous administration's failure to make progress, the consensus in Washington seems to be that there is little or nothing the US can do to broker a peace. The Israeli government prefers the status quo, even if it is inexorably leading to an apartheid-like situation. And it seems probable that any two-state "solution" that Israel might eventually accept would contain so many flaws as to be considered a travesty by a majority of Palestinians.
Ziabari: Many critics of the Trump administration say he has scrapped human rights as a priority in US foreign policy calculations, and, as a result, it's not surprising to find President Trump showering praise on leaders of countries such as Russia and North Korea. Why do you think Trump has removed human rights advocacy from his agenda abroad?
Harper: He has little personal interest in human rights, and he probably assumes that his core supporters share his view. At least they believe that charity begins at home, and that, by and large, promoting human rights abroad and exporting democracy has always been a program of the US elites — politicians, intellectuals, journalists and business leaders — rather than of ordinary people with their mundane concerns close to home.
Personally, I would agree that the US has spent far too much time and energy, not to mention lives and dollars, trying to nation-build in places like Iraq and Afghanistan, and must focus on its own festering internal problems like income inequality and the shameful state of its physical infrastructure. Unfortunately, although he has avoided new military adventures so far, and should be given credit for this, Trump has only made the country's internal problems worse.
Ziabari: Do you think America's global leadership has declined under Trump? Does the president's disregard for multilateralism and his eccentric statements make the United States less reliable in the eyes of the allies and adversaries?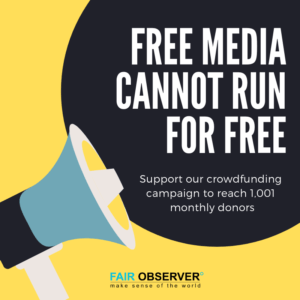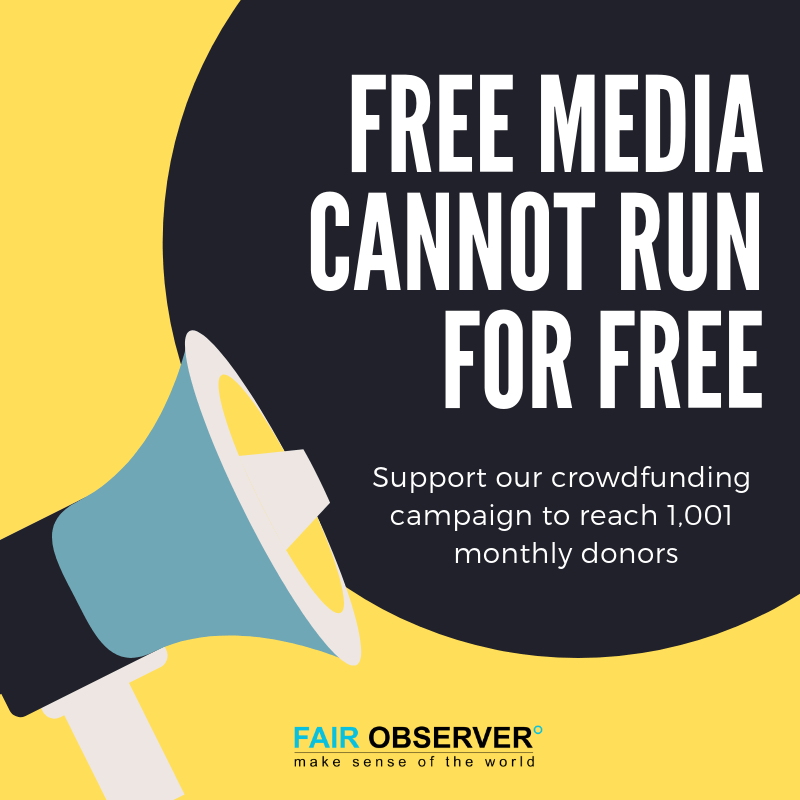 Harper: Trump's conception of "America First" does not really entail or require American leadership — America as the "indispensable nation" — as understood by mainstream Democratic and Republican Party doctrine. Trump himself seems to be a multipolarist — a believer in a multipolar world of great powers — but Obama was as well. The difference is that Obama — correctly in my view — believed in multilateral approaches and solutions to problems wherever possible.
That said, there are people in Trump's entourage and in the conservative Republican and neoconservative camps who believe in an aggressive form of American leadership to make up for the alleged failures of the Obama period, and are determined to maintain US military dominance on the doorsteps of Russia, Iran, and in particular of China. They are hoping to steer Trump himself in that direction — again, especially in the case of China.
There are also pragmatists in the administration concerned about the implications for the US economy of a serious and prolonged trade war, not to mention a real war, with China, and it isn't yet clear where Trump himself will come down. The recently renegotiated NAFTA agreement suggests that he will settle for much less than what he originally demanded in the case of China. But advisers like [Robert] Lighthizer, [Peter] Navarro, as well as [ Vice President Mike] Pence, Pompeo and Bolton, will probably push hard for concessions from China that would change its statist-mercantilist economic model.
Failing that, they will favor continuing pressure leading to a gradual delinking of the two economies, and a relationship between China and the US that more closely resembles the US-Soviet relationship during the Cold War.
Ziabari: Trump appears to be frustrated with the lack of progress in Afghanistan, and high-ranking Pentagon generals concede that the war is in a stalemate between the US-supported government and the Taliban. Will Afghanistan be able to conquer Taliban independently?
Harper: Trump is right to be frustrated, and there is a growing acceptance of the fact that the Taliban will not be defeated, and that sooner rather than later the US must stop throwing good money after bad. The US is now negotiating with the Taliban; the result, if there is one, will probably be some kind of power-sharing arrangement, allowing the US to leave while saving a minimum of face. Since the Pashtun Taliban are deeply rooted in the country, and supported directly or indirectly by Pakistan, the current Afghan government will not be able to defeat them.
The best that one can hope for is that the power-sharing arrangement will bring a period of peace. A Taliban takeover of Afghanistan would be terrible for the country, but not a disaster for the US unless it once again became a haven for groups like Al-Qaeda. One can only assume that the Taliban would be careful not to make that mistake again.
Ziabari: President Trump has been staunchly determined to dissuade immigration from the Muslim countries and neighboring Mexico, and indefinitely froze refugee intake from Syria. What's your take on the administration's immigration policies?
Harper: As in the UK with Brexit, relatively free immigration for many decades is at the center of the populist backlash in the US against globalization — understood as the removal of barriers to the free flow of people, money and goods — that has been building in intensity, especially since the great recession of 2008-09. Even if emigration from Mexico was falling in 2016, there were an estimated 11 million illegal immigrants, mostly Mexican, in the US that year. The only surprise, perhaps, is that someone did not successfully exploit this issue as Trump did before 2016.
Trump's policies are brutal and counterproductive from the point of view of US relations with the Muslim world, but the courts have upheld them, at least in part, and one will have to wait for a new and more compassionate administration if they are to be changed.
The views expressed in this article are the author's own and do not necessarily reflect Fair Observer's editorial policy.
For more than 10 years, Fair Observer has been free, fair and independent. No billionaire owns us, no advertisers control us. We are a reader-supported nonprofit. Unlike many other publications, we keep our content free for readers regardless of where they live or whether they can afford to pay. We have no paywalls and no ads.
In the post-truth era of fake news, echo chambers and filter bubbles, we publish a plurality of perspectives from around the world. Anyone can publish with us, but everyone goes through a rigorous editorial process. So, you get fact-checked, well-reasoned content instead of noise.
We publish 2,500+ voices from 90+ countries. We also conduct education and training programs on subjects ranging from digital media and journalism to writing and critical thinking. This doesn't come cheap. Servers, editors, trainers and web developers cost money.
Please consider supporting us on a regular basis as a recurring donor or a sustaining member.
Support Fair Observer
We rely on your support for our independence, diversity and quality.
Will you support FO's journalism?
We rely on your support for our independence, diversity and quality.
The IRS recognizes Fair Observer as a section 501(c)(3) registered public charity (EIN: 46-4070943), enabling you to claim a tax deduction.