Some people still believe sanctions can produce positive results, but history tells us the contrary. The Daily Devil's Dictionary explains.
In Fair Observer this week, the former vice-president of the European Parliament, Alejo Vidal-Quadras, offers his analysis of the evolving situation in Iran in an article titled, "Iran's Defiance of International Pressure Should Not Be Taken Seriously."
Here is today's 3D definition: 
Seriously:
1: An ironic trick of stand-up comics to introduce a new joke by making people believe they are changing their tone
2: In political analysis, something similar 
Contextual note
Should we take Vidal-Quadras's analysis of the current US-Iran standoff seriously? He appears to believe in the cool objectivity of the reasoning he presents, though his characterization of the policies of Donald Trump, John Bolton and Mike Pompeo may surprise a few observers. Vidal-Quadras tells us: "Iranians overwhelmingly recognize that their hardships stem from Tehran's self-serving rule and not from Washington's appropriately principled foreign policy."
Does he seriously expect his readers to believe that President Trump's foreign policy is principled? It may depend on how you define the "principle" this is presumably based on. If it's the belief that global empire, managed and conducted by a unique superpower, ensures the general safety and security of all — history teaches us that it obviously doesn't, but that's another question — then Trump's foreign policy might be called deeply principled, even if it contradicts the unique principle the US president himself claims to believe in: competitive nationalism.
Vidal-Quadras wants his assertion to sound logical He frames it as an analysis of cause and effect and relies on most people's reflex, which is to think that every effect has a cause. The easiest ploy to suspend an audience's critical faculties is to identify a unique cause that, after presenting a smattering evidence, credibly replaces all others. But, as every historian knows, in the real world any discernable effect not only has multiple causes, but also derives from a complex combinatorial interplay of material and psychological forces that more often than not invalidates all simplistic explanations.
This is where rhetorical analysis can help. It would require only a slight change of wording to read something that, from a historian's (rather than, say, a propagandist's) point of view, would sound more realistic. Had Vidal-Quadras written, "Many Iranians recognize that their hardships stem from Tehran's self-serving rule as well as from Washington's foreign policy, which I tend to see as based on principle," a serious dialogue could be undertaken. By offering "many Iranians" rather than Iranians — which suggests the entire nation is on the same page — he would recognize that there isn't a nation on earth whose population shares a single point of view or adheres to the same unique interpretation of causes and effects. And by substituting "as well as" for "not," he would show a capacity to acknowledge converging causes, allowing the reader to reflect on their relative importance and eventually their combinatorial logic. As to the question of whether the foreign policy is either appropriate or principled, it is far more honest to state one's own belief rather than assume that everyone shares it.
Once we acknowledge the existence of multiple causes, the challenge becomes that of understanding their interactions, how they converge to produce a particular effect. Even more interesting is to assess the multiplicity of effects that construct our vision of what functions as a network of often contradictory "principles" as well as deviations from principle (sometimes called hypocrisy) that always occur. Every node in the network carries its own "principle" of interaction that plays out through complex feedback loops.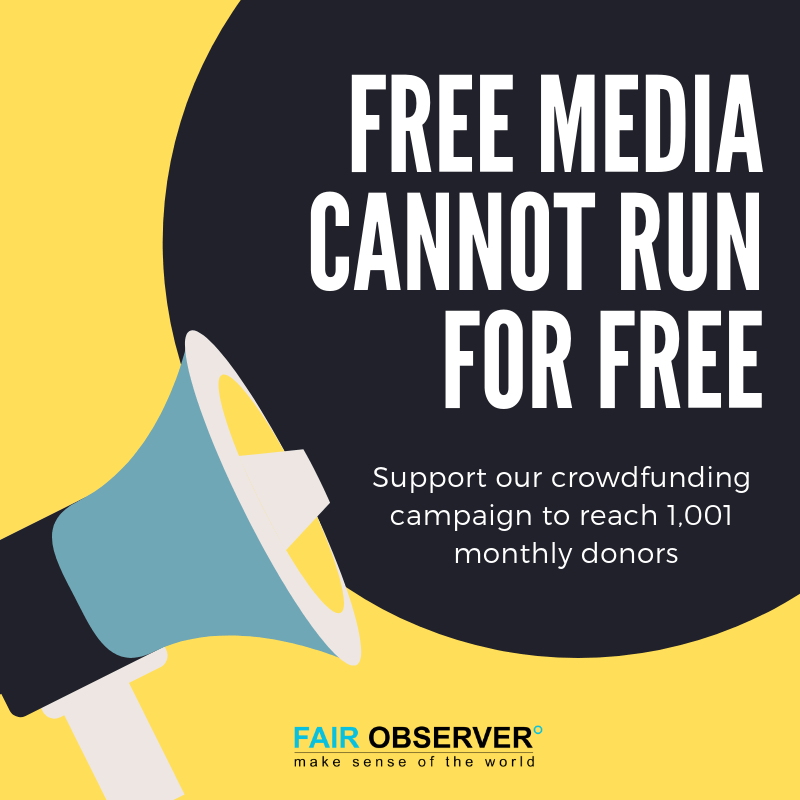 But it's much easier for those with a political agenda to assert that their understanding of the one big cause is more pertinent than anyone else's interpretation of the one big cause.
Historical note
Does Vidal-Quadras reveal — and at the same time mask — his real enthusiasm when he says: "There is hope among the Iranian opposition that the regime will continue to suffer under Western sanctions"? He expresses a desired outcome that will validate a particular political choice. But this type of argument does something far more subtle than just cheer for one solution. By expecting his reader to suppose that it's the regime that "will continue to suffer," he hides the more obvious fact that it's the people who suffer. The regime's suffering is a product of people suffering.
The history of sanctions tells us how this works, or more likely how sanctions most often fail to work. In 432 BC, Athens launched a trade embargo on the state of Megara because its people had cultivated land consecrated to the god Demeter. The conflict led to the Peloponnesian War, which ultimately put an end to Athenian democracy. As one modern commentator describes it: "If farmers have transgressed a sacred law, it is strange to punish merchants."
Modern sanctions function very much in the same way. By attempting to make things worse to achieve a short-term goal, they make things even worse over the long term. The reason is simple: The people who suffer may or may not approve of their government, the object of the sanctions. But they will not forget whose actions were directly responsible for their suffering.
The US sanctions against Iraq during the 1990s resulted in the death of hundreds of thousands of Iraqi children, but failed to weaken Saddam Hussein's hold on power. The failure of sanctions, even after so much suffering, led to the exponentially greater damage and suffering of a war that has never really ended after 16 years.
Vidal-Quadras seems to believe Iran is different, and he is right to suppose that no two historical situations are identical. He is also correct when he refers to the "self-serving rule" of Iran's elite. We might, however, ask ourselves if there are any regimes in the world that are not, first of all, self-serving.
Most Democrats in the US consider Trump to be a prime example of a leader motivated by corruption, whose mind is programmed according to the principles of self-interest. Others point beyond any individual president or politician to the oligarchic control of US policies at home and abroad, by which an elite accustomed to revolving doors makes and enforces policies that serve their personal and corporate interests.
However corrupt Iran's governing clique may be, few experts or historians believe that Trump's sanctions will work or that the desired outcome — regime change — is likely to occur. Just this week, Forbes offers this realistic analysis in an article with the title: "U.S. Sanctions Won't Bury Iran. Negotiations Are More Effective, Experts Say."
Beyond the purely economic considerations developed in the article, the author suggests what might be the "one big cause" of the probable strategic failure: "The United States, with its 200-plus year history, has a hard time grasping relationships that go back centuries — ones that are not just bound by trade and economic ties but also by cultural and historical links."
*[In the age of Oscar Wilde and Mark Twain, another American wit, the journalist Ambrose Bierce, produced a series of satirical definitions of commonly used terms, throwing light on their hidden meanings in real discourse. Bierce eventually collected and published them as a book, The Devil's Dictionary, in 1911. We have shamelessly appropriated his title in the interest of continuing his wholesome pedagogical effort to enlighten generations of readers of the news.]
The views expressed in this article are the author's own and do not necessarily reflect Fair Observer's editorial policy.
For more than 10 years, Fair Observer has been free, fair and independent. No billionaire owns us, no advertisers control us. We are a reader-supported nonprofit. Unlike many other publications, we keep our content free for readers regardless of where they live or whether they can afford to pay. We have no paywalls and no ads.
In the post-truth era of fake news, echo chambers and filter bubbles, we publish a plurality of perspectives from around the world. Anyone can publish with us, but everyone goes through a rigorous editorial process. So, you get fact-checked, well-reasoned content instead of noise.
We publish 2,500+ voices from 90+ countries. We also conduct education and training programs on subjects ranging from digital media and journalism to writing and critical thinking. This doesn't come cheap. Servers, editors, trainers and web developers cost money.
Please consider supporting us on a regular basis as a recurring donor or a sustaining member.
Support Fair Observer
We rely on your support for our independence, diversity and quality.
Will you support FO's journalism?
We rely on your support for our independence, diversity and quality.
The IRS recognizes Fair Observer as a section 501(c)(3) registered public charity (EIN: 46-4070943), enabling you to claim a tax deduction.