January 16, 2019 20:16 EDT
In this edition of The Interview, Fair Observer talks to Ramesh Thakur, a former assistant secretary-general of the United Nations.
During his tenure in office, President Donald Trump has made two controversial nuclear decisions with substantial impact on US foreign relations.
First, Trump pulled the United States out of the Joint Comprehensive Plan of Action (JCPOA), an international accord over Iran's nuclear program. The deal was agreed in 2015 between Iran and the five permanent members of the UN Security Council (UNSC), Germany and the European Union, and upheld by UNSC Resolution 2231. The unilateral withdrawal from the nuclear deal in 2018, followed by the reinstatement of sanctions against Iran, raised eyebrows across the world and created a rift between America and the EU.
Second, Trump held a high-profile summit in 2018 with North Korean leader Kim Jong-un and inked what was described as a denuclearization agreement with Pyongyang. The much-hyped summit, which was hosted by Singapore, elicited a barrage of criticism from foreign policy analysts, former government officials and journalists who believed the meeting was premature. The main point of contention was that it failed to lay out a specific roadmap for how North Korea would get rid of its stockpile of nuclear weapons. Despite this, Trump touted the summit as a success.
In this edition of The Interview, Fair Observer talks to Ramesh Thakur, a former assistant secretary-general of the United Nations, about Trump's withdrawal from the Iran deal and the dynamics of his nuclear agreement with North Korea.
The transcript has been edited for clarity.
Kourosh Ziabari: US President Donald Trump victoriously referred to his summit with North Korean leader Kim Jong-un as a success and praised Kim as a smart and talented negotiator. However, there's no indication that North Korea is willing to give up its nuclear arsenal. The New York Times published a report recently that North Korea is still working on its ballistic missiles program in underground sites. Do you think Trump exaggerated about his summit with Kim?
Ramesh Thakur: Yes, Trump greatly exaggerated his "achievements" at the Singapore summit. Despite Trump's "mission accomplished" declaration that North Korea was no longer a nuclear threat, the latter has given multiple indications of just how unlikely complete denuclearization is. By now, Seoul and Washington are at odds on whether to squeeze Pyongyang still tighter in order to coerce it into denuclearization, or ease the pressure on it and reduce its isolation as an inducement to cooperating with allies.
The language and sequencing of the Singapore declaration, which is neither a deal nor a treaty, were quite deliberate, its import reinforced by having the operative paragraphs of the respective undertakings numbered. First, the two leaders promised "to establish new US-DPRK [North Korea] relations in accordance with the desire … for peace and prosperity." Second, they agreed to make joint "efforts to build a lasting and stable peace regime on the Korean Peninsula." Third, the DPRK committed "to work toward complete denuclearization of the Korean Peninsula." And fourth, the two leaders pledged to work together to recover POW and MIA remains, "including the immediate repatriation of those already identified."
Trump was widely criticized for being outplayed by Kim who managed to get his much-sought photo-op with the US president, a visual representation as the legitimate leader of a nuclear-armed state dealing with his US counterpart as an equal. In addition, concessions to him were front-loaded in the statement and consolidated with the additional concession of Trump adopting the North's terminology of joint US-South Korea military exercises as provocations. Unilaterally and to the surprise of his own military commanders as well as South Korea, Trump ordered their suspension. In return, Kim offered little beyond vague promises. 
Ziabari: Is President Trump trying to feature the denuclearization agreement with North Korea as his signature foreign policy achievement? Is this for the same reason that he didn't raise concerns about Pyongyang's human rights record in his talks with Kim Jong-un?
Thakur: Trump is strategically challenged in that he does not understand nuclear issues. And he is ignorant about and inexperienced in foreign affairs. Consequently, he failed to understand there were good reasons why previous US administrations had refused multiple requests from North Korean leaders to meet, and instead touted his summit as a great success because he had scored a meeting with the North Korean dictator unlike any other US president.
But while it is distasteful for the leader of the free world to meet, on equal footing, the leader of one of the most horrific human rights abuser regimes, there is no shortage of precedent for this transactional calculation in "shaking hands with the devil" in order to make progress on the bigger picture. But the praise showered on the "very talented" Kim by Trump was unnecessary and nauseating.
Ziabari: Do you believe the United States is serious in giving North Korea sanctions relief if Pyongyang proceeds with denuclearization on the Korean Peninsula? North Korean Foreign Minister Ri Yong-ho told the UN General Assembly that the continuation of sanctions undermines trust between the two countries but cannot bring North Korea to its knees. What's your reaction to that?
Thakur: North Korea and the US hold different understandings of the key terms. "Denuclearization" denotes different things to the two sides — and it is the single most critical issue in the entire saga. The US, believing Kim had buckled under sanctions pressure, understood this to mean achievement of its long-sought goal of "CVID": complete, verifiable and irreversible denuclearization of North Korea. North Korea, mistakenly concluding that its nuclear deterrent had brought Trump to the summit, believes it was on the cusp of achieving its own long-sought goal: a nuclear-free Korean Peninsula, including an end to the US nuclear umbrella for Japan and South Korea.
Similarly, "security" and freedom from threat for North Korea means a guarantee that the US will not invade, attack or try to topple the Kim regime; a withdrawal of all US forces from South Korea; an end to the US alliance with South Korea and Japan; and an end to criticisms of its human rights record. But for the allies, it means an end to the North's relentless serial provocations and attacks. For Japan, it also means a resolution of the issue of abductees.
The third possible zone of ambiguity is what North Korea means by a suspension of nuclear tests. Pyongyang has previously insisted that satellite launches do not count as missile launches and sometimes refers to its missiles as rockets. The language that Pyongyang "understands" why US-South Korea military exercises cannot be suspended, but expects "adjustments" as the situation on the Peninsula stabilizes, is similarly ambiguous. It has the demanded that the US join South Korea in declaring the Korean War has ended and initiate a peace process that includes military confidence building measures to reduce the risks of armed clashes in the demilitarized zone and in contested waters.
Ziabari: North Korea is one of the most isolated countries in the world. Its leader is regularly referred to as a dictator. Only a handful of foreign visitors travel to the country every year. Is North Korea ready to reconnect with the international community and end its longstanding isolation?
Thakur: Yes, but on its own terms. Their primary motivation is regime survival and they believe nuclear weapons are essential for that. They have taken note of what happened to Slobodan Milosevic in Serbia, Saddam Hussein in Iraq and Muammar Gaddafi in Libya. Economic growth and prosperity is an important goal, but not at the cost of risking regime change by the US.
Ziabari: Let's talk about Iran. Has the decision by President Trump to pull out of the nuclear agreement with Iran discredited the US in the eyes of its allies in Europe and Asia? Do you think it was a decision that will best serve the United States and the international community?
Thakur: Trump's decision to withdraw the US from the Joint Comprehensive Plan of Action, despite all available evidence confirming Iran's compliance with the agreement, puts the US in material breach of the multilaterally negotiated Iran nuclear deal that had been unanimously endorsed in UN Security Council Resolution 2231 on July 20, 2015. To Kim Jong-un, who expects to rule for decades, the reinstatement of US sanctions against Iran signaled that a deal concluded with one administration could be canceled without penalty by the next. The abrogation of the Iran deal will have reconfirmed North Korea's belief that the one thing standing between its security and a US attack is the bomb. To China and Russia, it signaled the futility of falling in line with US demands against an ally, and the pointlessness of engaging in tough multiparty negotiations over several years.
To the rest of the world, it highlighted America's growing international isolation. The Iran decision will also have reinforced every hardliner's conviction that the US cannot be trusted to deliver its end of an internationally negotiated deal, a point emphasized to North Koreans both by Iranian President Hassan Rouhani and by the supreme leader, Ayatollah Ali Khamenei.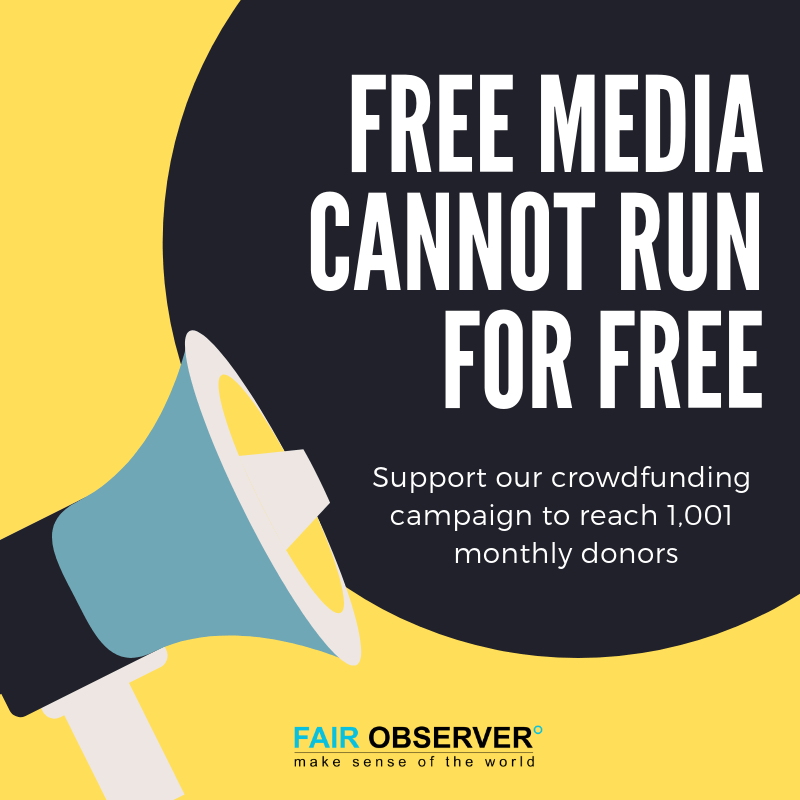 Ziabari: Some experts argue that Trump's U-turn on the Iran deal and his decision to reimpose new sanctions on the Iranian — coupled with withdrawing from the 2015 Paris climate accord, UNESCO, the UN Human Rights Council and cutting of US funding to UNRWA — undermine multilateralism and international institutions. Do you agree?
Thakur: It is no secret that the Trump administration is hostile to multilateralism in general and to multilateral nuclear arms control in particular.
Ziabari: Is the showdown between Iran and the United States merely a technical disagreement over the scope of Tehran's nuclear capability, or is it a deep-rooted hostility going beyond the nuclear dispute that cannot be resolved easily?
Thakur: There seems little doubt that the US goal is regime change in Iran by any and all means necessary. The deal had imposed a robust dismantlement, transparency and consequences regime on Tehran. Trump defaulting on it points to the ugly reality for weaker signatories that the US military muscle, economic weight and geopolitical clout in world affairs ensure there are no negative consequences on it for breaking international agreements. The same was true of the Russian violation of the Budapest Memorandum in invading Ukraine in 2014.
Ziabari: US Secretary of State Mike Pompeo has put forward a list of 12 demands that Iran should grant so that Tehran's relations with the US and the West can gradually shift from antagonism toward normalization. Do you think Iran will ever agree to these demands, including stopping its support for groups such as Hezbollah in Lebanon and Hamas in Palestine?
Thakur: No. The JCPOA was made possible because the US and five other countries negotiating with Iran agreed to quarantine other issues from the nuclear file as the most critical and urgent policy priority.
Ziabari: Will a Democratic successor to Trump be able to moderate the aggressive US strategy on Iran under the current administration and change relations between the two countries for the better? Is rejoining the JCPOA a good starting point?
Thakur: This is far too speculative. The Middle East regional and global contexts at the time, as well as domestic politics in the US, will shape the US recalculation of national interests.
Ziabari: You are a former high-ranking UN official. Is there anything the United Nations and other international organizations can do to alleviate tensions between Iran and the United States so that the Middle East doesn't go through further instability and chaos?
Thakur: There is nothing the United Nations can do to change the behavior of the United States if Washington is set on any particular policy. But the Europeans can take action in partnership with Russia, China, India, Japan, etc., to protect the JCPOA, provide trading and financial outlets for Iran, and prove to Tehran that the economic gains of continuing to abide by the deal are real and substantial despite the unilateral US withdrawal. And they can vote against any US efforts to reimpose UN sanctions.
The views expressed in this article are the author's own and do not necessarily reflect Fair Observer's editorial policy.
For more than 10 years, Fair Observer has been free, fair and independent. No billionaire owns us, no advertisers control us. We are a reader-supported nonprofit. Unlike many other publications, we keep our content free for readers regardless of where they live or whether they can afford to pay. We have no paywalls and no ads.
In the post-truth era of fake news, echo chambers and filter bubbles, we publish a plurality of perspectives from around the world. Anyone can publish with us, but everyone goes through a rigorous editorial process. So, you get fact-checked, well-reasoned content instead of noise.
We publish 2,500+ voices from 90+ countries. We also conduct education and training programs on subjects ranging from digital media and journalism to writing and critical thinking. This doesn't come cheap. Servers, editors, trainers and web developers cost money.
Please consider supporting us on a regular basis as a recurring donor or a sustaining member.
Support Fair Observer
We rely on your support for our independence, diversity and quality.
Will you support FO's journalism?
We rely on your support for our independence, diversity and quality.
The IRS recognizes Fair Observer as a section 501(c)(3) registered public charity (EIN: 46-4070943), enabling you to claim a tax deduction.