In India, about 900 million people are voting in the world's largest election. In more ways than one, it is a triumph of democracy. People will cast their votes freely and fairly. If the government loses power, the transition is likely to be peaceful. If it wins, the opposition is unlikely to claim that the government stole the election. Neither Pakistan nor Bangladesh, India's key neighbors, can claim such a luxury.
If democracy was all about elections, then, in the words of Victorian poet Robert Browning, "God's in his Heaven / All's right with the world!" Yet, despite the extraordinary logistical exercise of mindboggling attention, not all seems right in 2019.
THE EVAPORATION OF GREAT EXPECTATIONS
In 2014, India voted for Narendra Modi. Analyzing his victory, this author argued that Modi had "been elected to ensure economic growth, increase employment, lower inflation and lift millions out of poverty." Many, including this author, were tired of the Indian National Congress-led government. Its dynastic political model reserved all plum positions for members of a few select families. Its economic model was characterized by red tape, patronage and corruption. Such a political economy rewarded money and muscle, leading to a criminalization of politics and a collapse of the rule of law.
After years of misrule, people voted in the Modi-led Bharatiya Janata Party (BJP) in 2014 with great expectations. After all, Modi promised "achche din" (good days) and "sabka saath, sabka vikas" (economic development for everyone). For a country where "48 per cent of children under the age of five are stunted due to chronic undernutrition, with 70 per cent being anemic," Modi's promise of prosperity was seductive even to this author.
It turns out that Prime Minister Modi has not been the economic messiah Indians were waiting for. Instead of rejecting the economic model of the Congress party, he has embraced it with the zeal of a new convert. Just as Indira Gandhi unleashed bureaucratic socialism on the country, Modi has launched a new model of "Sanatan socialism." The Modi version of the Indira Gandhi model relies on direct financial transfers and private provision of services to the people. For example, it does not focus on publicly-run primary health centers in villages like Rwanda or Vietnam. Modi's Sanatan socialism has opted for the American insurance-based health care model. Worryingly, this choice presents grave risks of fraud, inflation and poor outcomes for a country where hundreds of millions are wretchedly poor and private health care providers are notoriously rapacious.
While it is too early to pass judgment on Modi's health insurance scheme, his five-year economic record is nothing short of abysmal.
First, he imposed demonetization on the country in a most disastrous manner. It took 59 circulars for the Modi government to implement such an ad hoc draconian measure. Starting from the first circular, these were drafted sloppily and caused complete chaos in the economy. Small businesses closed down by the thousands because they ran out of cash. Farmers suffered too and the sale of rice to rural markets dropped by 61%. In the state of Tamil Nadu alone, over 49,000 small businesses closed down, leading to nearly 520,000 people losing their jobs in the financial year 2017-18.
Second, Modi's implementation of the goods and services tax (GST) unleashed further mayhem upon the economy. Bureaucrats working in India's finance ministry have told this author countless tales of incompetence of Arun Jaitley, Modi's finance minister. One of them went so far as to say that Jaitley never reads files and signs off on whatever his underlings send him. This might be an exaggeration, but elementary mistakes on the Economic Survey website suggest some fire behind the smoke. It is no exaggeration to say that Jaitley launched GST spectacularly incompetently. This tax was levied suddenly in the middle of a financial year with confusingly varying rates and ridiculous reporting requirements. Many small businesses that had survived demonetization did not survive the imposition of GST.
Third, Modi interfered in the functioning of the Reserve Bank of India (RBI), the country's central bank, in a most unseemly manner. Raghuram Rajan and Urjit Patel, two governors who were economists, resigned in succession. Undaunted, Modi appointed an officer of the elite Indian Administrative Service (IAS) that controls the commanding heights of the Indian state. This IAS appointee had a degree in history, not in economics, but this did not bar him from becoming the top dog of the RBI. Reportedly, this highly unqualified appointee is a poodle of the prime minister.
More importantly, this new RBI boss is going against his eminent deputy and advocating a decrease in interest rates. This measure could stimulate the economy before the end of the election and would help Modi win, but it carries the risk of sparking off inflation. Furthermore, this Modi lackey has made the RBI halt prompt corrective action on many ailing banks and is asking them to start lending again. He is doing so at a dangerous time.
As this author observed in 2018, India is in the middle of a major financial crisis. Therefore, this policy makes no sense. To add insult to injury, despite the financial crisis, the State Bank of India (SBI) has converted its loan to Jet Airways into equity to bail out the beleaguered airline. In 2010, when the SBI bailed out Kingfisher Airlines, it incurred huge losses. It is an open secret that the SBI is repeating its bailout blunder because of pressure from the Modi government. By allowing the SBI to proceed with such shenanigans, the RBI is inflicting immense damage on both the financial sector and the economy.
Such is the state of affairs that even high priests in the sanctum sanctorum of the government are worried. A number of BJP leaders and IAS officers are scathing about the RBI's loss of independence in private even as they observe omerta in public. The data leaking through about the economy is not as silent as these high priests. It reveals that jobs are scarce, inequality is increasing and new investments are at a 14-year low.
STRONG-MAN INCOMPETENCE
Many are quietly making the argument that India is experiencing economic contraction and its dodgy figures fail to account for the country's huge informal economy. To understand this argument better, let us assume India's formal economy was $100 and the informal economy was $50 in 2017. Remember, this informal economy does not show up in GDP figures. If the GDP grew by 10% in 2018, it would mean the new GDP would be $110. If the informal economy collapsed at the same time, the new real economy has gone down from $150 to $110. Falling consumption and anemic 0.1% industrial production lend weight to this argument. And if an economic contraction is on, then there is no one other than Modi to blame.
Modi's incompetence is not limited to the economy. Kashmir is up in flames. Exam papers continue to leak. Interference in institutions is par for the course. Not only the RBI but the Central Bureau of Investigation (CBI) has also become a plaything for those in power. Like Indira Gandhi, Modi is damaging institutions. This is weakening the fabric not only of democracy but also of the Indian state itself.
Tellingly, the Prime Minister's Office (PMO) has bloated to the point of obesity and tells all ministries what to do. Most ministers are courtiers who spend nearly all their time genuflecting to the prime minister. In hushed tones, many call the prime minister paranoiac. They say he does not want anyone competent in his cabinet because he fears the emergence of a rival. There might be some truth to those whispers. When Modi was first elected, he appointed the uncultured Mahesh Sharma as minister of culture, put the uneducated Smriti Irani in-charge of India's education system and gave other nincompoops ministries they knew nothing about. As a result, most ministers just kowtow to the PMO, leaving Modi to run the show almost singlehandedly with an iron hand.
Last year, one of Modi's own ministers confided in this author and bemoaned that the prime minister ran "a one-man government and a two-man party." The second person who matters in Modi's party is Amit Shah, the current president of the BJP. Shah is a controversial figure to say the least. A foreign diplomat once called him "Modi's bandobast man" — a fixer for the prime minister.
Modi and Shah have ridden roughshod over other leaders in the BJP, appointing state chief ministers as well as party presidents with scant regard to local sentiment. In the last five years, the BJP has changed from a cadre-based party into a personality cult. Media and social media have helped in the process. Most recently, Modi interviewed on Zee television with a fawning film star, not a critical journalist. This development is unhealthy for India's democracy.
FEAR OF DYNASTS, CRIMINALS AND OLIGARCHS
Despite Modi's spectacular incompetence, many still reluctantly prefer him to others. The reason is simple. The Congress party is the fiefdom of the Nehru family. The half-Italian Rahul Gandhi is a fifth-generation scion who grew up in a modern-day palace. He has dashing debonair looks, but is the butt of ridicule for being a doddering dimwit. His sister is charismatic, but she married a man who is fighting money laundering charges and is reputed to be land-grabbing thug.
Other leaders in the Indian National Congress, such as Jyotiraditya Scindia, Sachin Pilot, Gaurav Gogoi and Deepender Singh Hooda, are all children of powerful fathers. A few years ago, this author met a young Brahmin from Rajasthan who is an alumnus of India's famous St. Stephen's College. He said that he liked the secularism of the Congress, its inclusive heritage and its ideological suppleness, yet he had no option but to join the insular BJP because the Congress was a closed club for members of the lucky sperm club. To be fair, other parties like the Samajwadi Party of Uttar Pradesh or the Biju Janata Dal of Odisha are similar, but the Congress is the pioneer and preeminent purveyor of dynastic politics.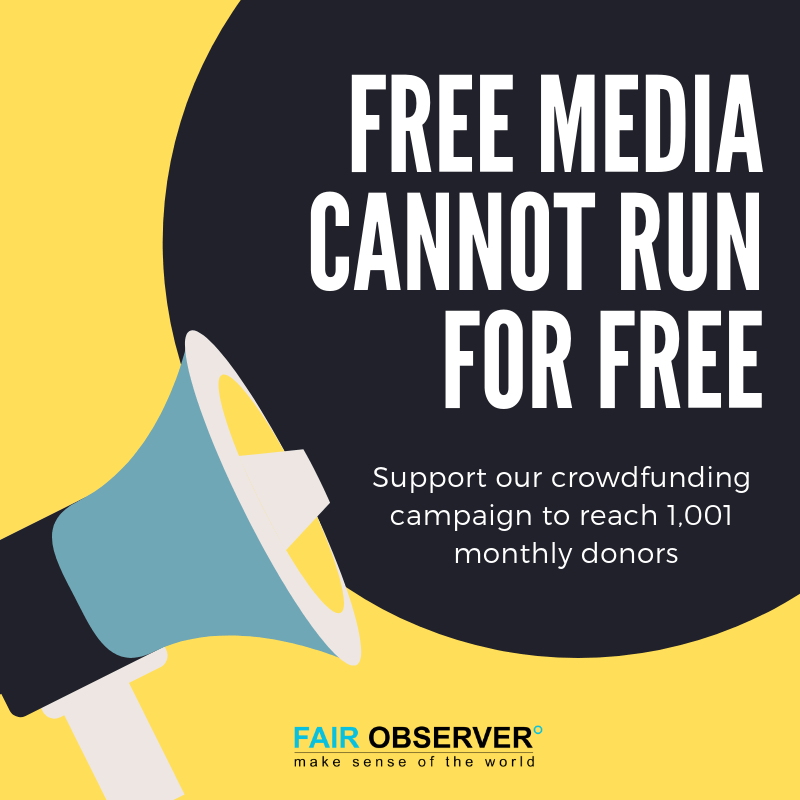 This leads to tensions in modern India. Today, the country has more than 600 million young people under the age of 25. They want opportunity. They desire social mobility. Therefore, many identify more closely with Modi who began as a chaiwala than with the princelings of the Congress. Besides, the grand old party of India lacks the energy it did under Indira or Rajiv Gandhi. Its regional leaders are increasingly tempted to emulate Mamata Banerjee. She left the Congress to become the chief minister of West Bengal and is touted as a potential prime minister of a national coalition.
Some argue this weakening of the Congress and emergence of regional parties might be a good thing. A coalition government would lack the rapaciousness of the Congress and the majoritarian authoritarianism of the BJP. However, dysfunction and a clash of egos is a distinct possibility. India's regional leaders are monarchs of their respective states, and all of them might want to be primus inter pares after the election.
More than instability, Indian democracy's greatest challenge is the entry of criminals into politics. Of India's 541 current members of the lower house of parliament, 186 have criminal cases and 112 have serious criminal cases registered against them. The serious cases are "related to murder, attempt to murder, disturbing communal harmony, kidnapping, and crimes against women." Needless to say, many such politicians have fat wallets as well. Milan Vaishnav has written a book about money and muscle in politics, explaining why crime pays in India. If one cuts through his Americano jargon, Vaishnav blames a lack of inner party democracy, ignorant voters, identity politics and weak institutions.
The simplest explanation is perhaps India's size. More than 1.3 billion Indians are represented by a mere 545 members of parliament. In contrast, the UK's 66 million people are represented by 650 MPs. It is not humanly possible for any candidate to knock on doors and meet people in person to win a seat in India. Marketing is the name of the game and costs big money. So, the brand identity of a dynasty helps. For political entrepreneurs, crime pays. It provides muscle, money and even mass support. India is now not the land of Mahatma Gandhi, but of mafia don Mukhtar Ansari.
This politics of criminals in India has a strong symbiosis with an economy of oligarchs. The current election is estimated to cost $7 billion, a figure that beats the obscene $6.5 billion figure for the 2016 American election. Those who fund the candidates expect returns on investment. After winning elections, politicians dutifully reward their backers. Once they have earned good returns, these backers fund future campaigns. Some of them turn into oligarchs. And wealth miraculously transfers from public to private hands, enriching them for their business acumen. Indian elections perpetuate this vicious cycle and arguably benefit oligarchs more than the people.
Modi was elected on the promise of changing India's rotten system. Instead, he has embraced the system to concentrate power in his hands. The opposition is too corrupt, divided and incompetent to offer a compelling alternative. The 2019 elections offer slim pickings. As one witty friend remarked, Indians can vote for "an idiot or someone who thinks everyone else is an idiot. The only good thing is that they can vote."
*[Updated: April 25, 2019, at 22:30 GMT]
The views expressed in this article are the author's own and do not necessarily reflect Fair Observer's editorial policy.
For more than 10 years, Fair Observer has been free, fair and independent. No billionaire owns us, no advertisers control us. We are a reader-supported nonprofit. Unlike many other publications, we keep our content free for readers regardless of where they live or whether they can afford to pay. We have no paywalls and no ads.
In the post-truth era of fake news, echo chambers and filter bubbles, we publish a plurality of perspectives from around the world. Anyone can publish with us, but everyone goes through a rigorous editorial process. So, you get fact-checked, well-reasoned content instead of noise.
We publish 2,500+ voices from 90+ countries. We also conduct education and training programs on subjects ranging from digital media and journalism to writing and critical thinking. This doesn't come cheap. Servers, editors, trainers and web developers cost money.
Please consider supporting us on a regular basis as a recurring donor or a sustaining member.
Support Fair Observer
We rely on your support for our independence, diversity and quality.
Will you support FO's journalism?
We rely on your support for our independence, diversity and quality.
The IRS recognizes Fair Observer as a section 501(c)(3) registered public charity (EIN: 46-4070943), enabling you to claim a tax deduction.