John Bolton and Mike Pompeo are on the lookout for Iranian provocations and are skilled at finding them, even when they don't exist.
On May 21, Trump administration officials treated key members of Congress to closed-door briefings to persuade them to back what appears to be a build-up for a new war in the Middle East, this time against Iran. Among the personalities to pitch for a new round of aggressive moves against the enemy of Saudi Arabia and Israel (and consequently of the United States) were what an observer would be justified in calling some "big guns": Secretary of State Mike Pompeo, Acting Secretary of Defense Patrick Shanahan, Chairman of Joint Chiefs General Joseph Dunford and an official from the US Defense Intelligence Agency.
Al Jazeera reports that: "Trump officials cast the discussion as the United States responding to provocations from Iran, but failed to mention President Donald Trump's decision a year ago to withdraw from a nuclear agreement with Iran and Trump's imposition of economic sanctions."
Here is today's 3D definition:
Provocation:
An act, real or imaginary, always committed by an empire's enemy for no other reason than to provide a fitting pretext for the bellicose empire's military to engage an armed conflict considered by the empire's leaders to be necessary to maintain imperial control over all future events that take place in the enemy's region of the world
Contextual note
Democratic Representative Adam Smith, chairman of the House Armed Services Committee, described the briefing: "Secretary Pompeo made a very lengthy political argument and he argued, 'Here are all the terrible things that Iran has done', and he spent about 10 minutes until I cut him off." Somewhat cryptically, one representative, Anna Eshoo, commented: "There was an echo of years past."
The Democrats appear unwilling, at least for the moment, to follow President Trump into what increasingly resembles the Bush administration's push to start a regime-change war in Iraq. Foreign Policy worries that "rising tensions with Tehran bear disturbing similarities to the run-up to war in 2003. Chief among them: the presence of John Bolton." The authors of the article remind us that Bolton, who is currently the US national security adviser, was "a fierce advocate of war who was accused of manipulating intelligence to justify an invasion — and said as recently as 2015 that he didn't regret his part in what has since become widely viewed as a strategic disaster." In contrast, one candidate in the 2016 presidential race viewed George W. Bush's war as a "a big, fat mistake": a certain Donald Trump.
Though even the United Arab Emirates has not announced the conclusions of its investigation to identify the perpetrators of the damage done to four tankers in the port of Fujairah on May 12, the Pentagon blames Iran. It claims that the US "has a high degree of confidence that Iran's Revolutionary Guard was responsible for the explosions." Vice Admiral Michael Gilday "did not provide direct evidence to back up claims tying Iran to the attacks. He told reporters the conclusions were based on intelligence and evidence gathered in the region."
Could the admiral's "confidence" possibly be an effect of Bolton's talent for "manipulating intelligence"? Everyone remembers Colin Powell's "high degree of confidence" in the evidence of Saddam Hussein's weapons of mass destruction that he presented to the United Nations.
The Trump administration, nevertheless, appears to have understood that it won't be quite as easy as it was for Bush in 2003. This time around, Congress is not likely to act as a rubber stamp. And so in parallel with the campaign to seduce the House Armed Service Committee, Trump has resorted again to the notion of emergency powers to put everything in place for his potential war. CNN reports: "The Trump administration has declared an emergency to bypass Congress and expedite billions of dollars in arms sales to various countries — including Saudi Arabia and the United Arab Emirates — citing the need to deter what it called 'the malign influence' of Iran throughout the Middle East."
This initiative goes further than just preparing to counter a "provocation" by promising to respond by ensuring militarily "the official end of Iran." Trump is clearly using the idea of an emergency to equip two regimes — Saudi Arabia and the UAE — with the arms whose sale Congress has not only refused to authorize, but has voted to "prohibit U.S. military involvement in the war in Yemen." The Saudis are currently using US weaponry to wage their war in Yemen, which has turned into a humanitarian disaster.
Historical note
The Trump administration's attempt to seduce the lower house of Congress, controlled by a Democratic majority, would appear to demonstrate its deep respect for the Constitution, which attributes exclusively to Congress the power to declare war and ensure its funding. The role of the president in wartime is to manage the war declared by Congress. But, of course, as soon as the provisions of the Constitution get in his way, President Trump finds a way to avoid its constraints. Trump will thus use the idea of an emergency response to achieve his goal.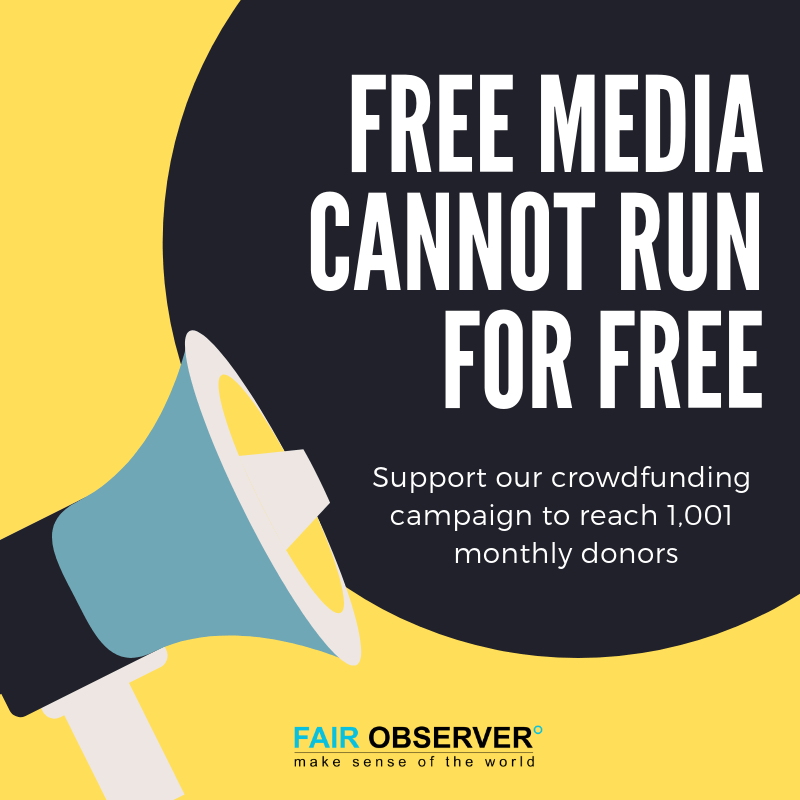 In some sense, Trump is simply following an established historical tradition. Having Congress declare war has become a historical relic, something only a wimp would even consider. That's why the US has managed to launch multiple wars and diverse military operations across the globe without ever declaring war since the last declared one: World War II in 1941.
To get there was a long, slow process. For those who care enough to take the time to understand the meaning of the Second Amendment (spoiler: it isn't about individual rights to own and use guns), it wouldn't have seen the light of day had there been a federal military force.
But the sole principle of military organization in the early years consisted of state militias, which in order to be well organized required calling on the citizens themselves to provide both the manpower and eventually the arms required, not for the federal government itself but to maintain order in the states. This was, nevertheless, a single "1st American Regiment" of 700 men at the service of the federal government. It "was a hybrid, neither a strictly state-based militia unit nor a completely national regular force; instead, its formation depended on the goodwill of four states to provide militiamen."
In its beginnings, the military was the responsibility of states and their citizens. That situation slowly evolved during the first decades of the 19th century and radically changed with the Civil War, when the United States (plural) became the United States (singular). The 20th century saw much greater changes, as the dominant ideology of self-sufficiency, which encouraged an isolationist foreign policy, suddenly vanished for good following World War II.
Ever since, presidents have learned not only to flex their muscles as commanders-in-chief, but also to learn the tricks of provocation that allow them to start any armed conflict they feel will be convenient for the strength and safety of the empire that was placed in their hands after the collapse of Europe in 1945.
*[In the age of Oscar Wilde and Mark Twain, another American wit, the journalist Ambrose Bierce, produced a series of satirical definitions of commonly used terms, throwing light on their hidden meanings in real discourse. Bierce eventually collected and published them as a book, The Devil's Dictionary, in 1911. We have shamelessly appropriated his title in the interest of continuing his wholesome pedagogical effort to enlighten generations of readers of the news.]
The views expressed in this article are the author's own and do not necessarily reflect Fair Observer's editorial policy.
For more than 10 years, Fair Observer has been free, fair and independent. No billionaire owns us, no advertisers control us. We are a reader-supported nonprofit. Unlike many other publications, we keep our content free for readers regardless of where they live or whether they can afford to pay. We have no paywalls and no ads.
In the post-truth era of fake news, echo chambers and filter bubbles, we publish a plurality of perspectives from around the world. Anyone can publish with us, but everyone goes through a rigorous editorial process. So, you get fact-checked, well-reasoned content instead of noise.
We publish 2,500+ voices from 90+ countries. We also conduct education and training programs on subjects ranging from digital media and journalism to writing and critical thinking. This doesn't come cheap. Servers, editors, trainers and web developers cost money.
Please consider supporting us on a regular basis as a recurring donor or a sustaining member.
Support Fair Observer
We rely on your support for our independence, diversity and quality.
Will you support FO's journalism?
We rely on your support for our independence, diversity and quality.
The IRS recognizes Fair Observer as a section 501(c)(3) registered public charity (EIN: 46-4070943), enabling you to claim a tax deduction.