Luiz Cesar Pimentel
Luiz Cesar Pimentel is a Brazilian journalist. He has worked in communications for 25 years, focusing on digital, strategy and transmedia storytelling. He led MySpace, Jovem Pan and R7 operations in Brazil. His career has seen him work as a reporter for Folha de S. Paulo, Carta Capital and TRIP magazine, as well as the manager of UOL and an international correspondent in Asia. He has also written seven books in the area of communication. Pimentel has a postgraduate degree in international journalism from the Poynter Institute in Florida, as well as in artificial intelligence for communication from the University of California, Berkeley.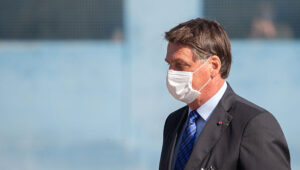 Graft charges against Flavio Bolsonaro throw wide open the...
Jair Bolsonaro's popularity is rapidly falling. Are his...
September 16, 2019
The fires burning in Brazil will affect the entire world,...
August 30, 2019
Will you support FO's journalism?
We rely on your support for our independence, diversity and quality.
The IRS recognizes Fair Observer as a section 501(c)(3) registered public charity (EIN: 46-4070943), enabling you to claim a tax deduction.
You can also contribute via