In this guest edition of The Interview, Vishal Manve talks to Maria Alyokhina, a founding member of the Russian activist punk band Pussy Riot.
At last month's International Civil Society Week (ICSW) organized by the Civicus nonprofit in Belgrade, Serbia, a Russian protest-art collective, Pussy Riot, thronged onto the stage to raucous applause. The theme of civil solidarity and fighting against authoritarian attacks on press freedom took center stage. Members of the anti-Kremlin feminist punk band spoke extensively about an imminent Cold War under the current administration of US President Donald Trump, rampant domestic violence in Russia and the role of art in questioning and changing the status quo to defend human rights globally.
Authoritarianism is something Pussy Riot's co-founder, Maria Alyokhina, knows a lot about. The fiercely anti-Kremlin Pussy Riot are known for their radical performances like the infamous "punk prayer" at the Christ the Savior Cathedral in Moscow in 2011, a protest against Russian President Vladimir Putin's yet another run at the presidency. Following the stunt, Alyokhina was arrested along with other members of the group, Nadezhda Tolokonnikova and Yekaterina Samutsevich, and charged with "hooliganism motivated by religious hatred."
Alyokhina and Tolokonnikova, both young mothers at the time, were given two-year sentences, then amnestied in December 2013 after having served 16 months in a penal colony in Mordovia. Living in slave-like conditions, the two become the international icons of Russia's slow slide into civil unfreedom.
Ahead of the ICSW in Serbia, Alyokhina spoke at length about her time in prison and art's role as a form of resistance. The art collective's worst fears about censorship and torture have come true in Putin's Russia, with activists rounded up, facing threats and persecution. (Vekonika Nikulshina, another member of Pussy Riot, has been arrested again earlier this month.) Press freedom is a distant dream, with Russia is following China's playbook by encroaching on internet freedoms and the use of social media. But the group — comprised of artists, writers, feminists, musicians and activists — is hopeful and is providing an alternative form of journalism through its news website, MediaZona.
In this guest edition of The Interview, Vishal Manve talks to Maria Alyokhina about the intersection of art and activism, and what Russia's exclusion from the global rights organizations could signal for the civil rights of citizens, and of women specifically.
The text has been edited for clarity.
Vishal Manve: Can you describe your journey toward the formation of Pussy Riot?
Masha Alyokhina: Briefly, the story is that at the end of 2011, Pussy Riot was formed. It was a very spontaneous decision by different people — activists, artists, filmmakers, musicians — to protest against Putin's presidency. Russian people did not want this endless presidency, and there were huge protests when Putin announced he would [run again].
And we took action in the center of Moscow in the Red Square with a song, "Putin Zassal" [Putin pissed himself], which was important for us because we believed that in decisive moments, we need to not be silent. And then when the Russian Orthodox Church said that Putin is the greatest leader of our country, who has improved our history, we decided to go to the Cathedral of Christ the Savior and sang a song, "Mother Mary, Drive Putin Away." We sang the first verse of the song and after that, they opened a criminal case against us citing religious hatred.
Nadezhda Tolokonnikova and I spent two years in prison for this protest song. Once we got out of prison, we went out and continued with our activism.
We are officially banned from leaving Russia, not allowed to cross the border. I cannot go outside Russia, fly out, take a train or bus, etc. But it's important for me to perform. So that's why I jumped out. We are also doing a lot of things to push for prison reform and to fight for prisoners' rights. We created a media [portal] called MediaZona. In 2014, it was a small group of independent journalists, mostly fired from different publications because they refused to cover the Crimea topic in the way Putin's government wanted it. It is one of the most popular media [outlets] in the Russian sphere.
Manve: Are you tired of being targeted by the Russian state?

Alyokhina: No, it's okay. It's not the worst thing that can happen to you, and it's quite funny because you see these serious officers in uniform running after a small person like me. It's very funny when you see the police running after a girl in the center of Moscow. I don't think that it is tiring or scary.
Manve: What do you think is the role of art in changing the world?
Alyokhina: I believe that art is changing the world and changing the country itself, because art is the only field and the only sphere that asks uncomfortable questions and does not provide a general line or answers, like politics. Art is reflecting our reality, and that's why it's so powerful.
Manve: What are some issues that you are concerned about?
Alyokhina: I am concerned about the issue of freedom of speech. There are a lot of people supporting Putin in Russia. Actually, my opinion is that you should not think that there are only two options like NATO or Putin the Great's Russia, because it's not true. And what Putin is doing is nothing about greatness. It's about repressing people. It's about killing the opposition. It's about putting people in jails because of Facebook posts, retweets or criticizing Putin's regime. This is what is happening in Russia.
A filmmaker [Ukrainian dissident Oleg Sentsov] received much worse treatment than us for his activism in Crimea. He didn't do anything, but was captured in Crimea. He was transferred to Russia. He was tortured in a Russian prison during the investigation, and then given 20 years and sent to eastern Siberia.
Manve: How do European Union countries respond to Pussy Riot's performances?
Alyokhina: We are accepted in Eastern Europe and whichever states we generally go to. But I think it's important to understand that when you're coming back, these people will stay in their geographies, and you can be in touch only by social media. And so that's why we are doing everything on social media, because even now in Russia, it's a method to influence people and bond them together.
Manve: How do you tackle difficult situations? Does public support matter?
Alyokhina: For me, personally, it's solidarity. Because without all the people supporting us, especially when we're in trouble, we will not be sure that we can continue what we're doing. Because when you're isolated and alone, you can sometimes not be sure that you have enough internal power to just keep doing what you're doing. And when we hear people's words, and when we receive letters, we just feel the difference.
Manve: You had warned everyone about Donald Trump. How do you feel now about the US and its role in the global world order?
Alyokhina: Do I think the United States changed since Trump's presidency? Of course, it has changed. I think that another Cold War is probably coming, which is very, very bad, because the last one was not so long ago. And this is so tragic and surprising to see how history repeats [itself] so quickly.
Manve: What will happen if Russia pulls out of the European Court of Human Rights, and the UN's jurisdiction over its human rights cases ceases to exist?
Alyokhina: If the European Court of Human Rights ceases to have jurisdiction over Russian territory, this will be a catastrophe for the Russian people. This is a real threat. Sadly, this is where Russia is going. You should know: Even the right to life will not work in Russia. This is a disaster, and Russian people will not be protected anymore.
Manve: How has your work impacted Russia, or how difficult and restricted is it?
Alyokhina: In Russia, we are not allowed to perform. When we recently ran our show in a very small theater in Moscow, in a tiny, closed space, with room for just about 100 people, and for free, with no tickets on sale, the authorities closed the venue, and they are not allowed to operate anymore. When we are asked to perform in other theaters and we say yes, and we send everything, they become very enthusiastic about the possibility of hosting us, and then they have to cancel because of state [pressure]. This has happened about 35 times.
Every day, government officials call the opposition or activists enemies of the state. The main thing is, Russia is proud of winning the Second World War. Now they're trying to transform that victory into the current situation, calling Ukrainians fascists. Every day there is propaganda, and the entire machinery is working against activists — and sometimes people believe it. If you exist in an information vacuum, it is impossible not to believe it.
Manve: What do you think about the state of women's rights in Russia?
Alyokhina: I do not separate feminism from politics. Feminism is not a special thing, but very much inside politics. In February 2017, we had a fresh law that decriminalized domestic violence. It's not a crime anymore. The administrative punishment is €80 for beating wives, and children as well. Now, we have started work in this direction. We have a dark joke in Russia about policemen. When women call the police saying they are being beaten, the officer replies to the call after they are killed. It's a joke, but it's so real.
We found several cases when policeman didn't react when women were calling. And after these women became disabled, and lawyers pushed the case and are now fighting for punishing these policemen for inaction.
Manve: How strong is the women's rights movement in Russia?
Alyokhina: It's a grassroots movement in Moscow, St. Petersburg and several other cities. Women are active. But we still don't know how strong this is because there is no single collective, and no one has collected all the information. We run concerts and donate several thousands of euros to crisis centers that help victims of domestic violence. There is no money from the government for these centers, only from church or feminist groups.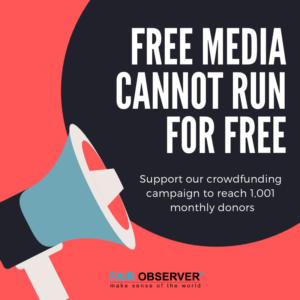 Manve: What do you think about Russia targeting social media platforms and the #MeToo movement that uses social media as a galvanizer?
Alyokhina: After the #MeToo movements worldwide, women in Russia created a local hashtag, #ЯНеБоюсь — #ImNotAfraid. People wrote posts about harassment and violence. That was huge. Thankfully, Russia is not as isolated politically as China, but the political direction is very much same. Just a few months ago, they started discussing a new law that would ban YouTube, Facebook and Twitter, and all networks located internationally. This is out of China's playbook. You can be jailed for up to three years for Facebook posts.
Manve: What do you think about women's rights movements in the "global south," including South Asia?
Alyokhina: It's my dream to come to India and perform for an audience there. I am a fan of Period. End of a Sentence, produced by Guneet Monga. I was really happy when I saw the news and about it winning an Oscar. I don't know much, but India is very conservative, and there is a lot of work to be done. But if people believe and stand up against authoritarianism, they will achieve progress. When you start your activism, you realize you are not alone. When you are taking your first action or writing [for the first time], you may feel alone physically, but in general, there are thousands of people in different countries and in different conditions who are fighting for the same values.
Manve: What do you think about the rise of right-wing populism?
Alyokhina: We should be very careful about calling somebody a fascist, because if you will use the term for people you don't agree with, it is not right. If you believe that political prisoners should be free and basic human rights to exist, you must start doing something in that direction. It's a huge stereotype that Pussy Riot is fighting against the church. We are not fighting against the church, but offering a slight critique.
The views expressed in this article are the author's own and do not necessarily reflect Fair Observer's editorial policy.
For more than 10 years, Fair Observer has been free, fair and independent. No billionaire owns us, no advertisers control us. We are a reader-supported nonprofit. Unlike many other publications, we keep our content free for readers regardless of where they live or whether they can afford to pay. We have no paywalls and no ads.
In the post-truth era of fake news, echo chambers and filter bubbles, we publish a plurality of perspectives from around the world. Anyone can publish with us, but everyone goes through a rigorous editorial process. So, you get fact-checked, well-reasoned content instead of noise.
We publish 2,500+ voices from 90+ countries. We also conduct education and training programs on subjects ranging from digital media and journalism to writing and critical thinking. This doesn't come cheap. Servers, editors, trainers and web developers cost money.
Please consider supporting us on a regular basis as a recurring donor or a sustaining member.
Support Fair Observer
We rely on your support for our independence, diversity and quality.
Will you support FO's journalism?
We rely on your support for our independence, diversity and quality.
The IRS recognizes Fair Observer as a section 501(c)(3) registered public charity (EIN: 46-4070943), enabling you to claim a tax deduction.