Gaetan L. Kashala
Gaetan L. Kashala is the President and Chief Executive Officer of Global Enterprise Services Corporation (Globex), a global consulting firm focused on providing dynamic solutions to its public and private sector clients. Mr. Kashala's responsibilities include the formulation and execution of Globex's strategic mission and client management strategy. Mr. Kashala also focuses on the negotiation of all Globex contracts and strategic alliances, and the monitoring of geopolitical events to determine their potential ramifications to Globex and its clients. Mr. Kashala maintains an array of international contacts that enables Globex to have a reliable domestic presence and real-time information regarding developments in areas of client interest. Mr. Kashala has experience advising on international campaigns where his principle duties included interfacing with the media, government and non-government institutions to promote a clients' electoral viability; preparing campaign plans, speeches, budgets, and campaign advertisements; assisting in the development of clients' electoral strategies; conducting research and preparing memorandums; and performing various general functions aimed at supporting clients' activities in the United States and abroad. Mr. Kashala holds a Bachelor of Arts Degree in Political Science with a concentration in international relations and government from Tufts University in Massachusetts and is a member of the National Society of Collegiate Scholars.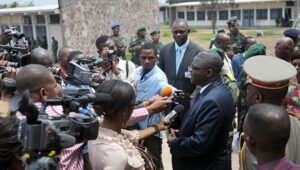 Will you support FO's journalism?
We rely on your support for our independence, diversity and quality.
The IRS recognizes Fair Observer as a section 501(c)(3) registered public charity (EIN: 46-4070943), enabling you to claim a tax deduction.
You can also contribute via