Shukriya Bradost
Shukriya Bradost is a political analyst, graduate research assistant and PhD student at Virginia Tech. She wrote a chapter for the book titled, "State and Democracy" about the nation-state and democracy. Her latest research focuses on security and stability in the Middle East. Her academic knowledge, field experience and fluency in five languages make her a unique voice on international and Middle Eastern affairs. She provides regular commentary for major Kurdish and Persian media outlets as well as Voice of America and the Australian SBS Radio. Previously, she served as the manager of the Kurdistan Student Union Media and Research Center and a co-founder of Peacebuilding Movement in Kurdistan Organization (BAN). Bradosti was an intern in the UN Office of the High Representative for the Least Developed Countries, Landlocked Developing Countries and Small Island (OHRLLS) from 2018 to 2019. She is a co-founder and board member of the American Kurdish Research Institute (AKRI). She received an MA in International Security from Leicester University in the UK and a BA in Law from Salahaddin University in Erbil, Iraq.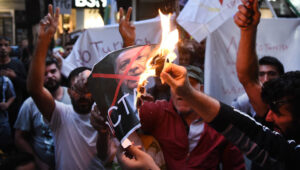 The Sykes-Picot Agreement failed to separate Kurds in the...
Will you support FO's journalism?
We rely on your support for our independence, diversity and quality.
The IRS recognizes Fair Observer as a section 501(c)(3) registered public charity (EIN: 46-4070943), enabling you to claim a tax deduction.
You can also contribute via