Colombe Cahen-Salvador
Colombe Cahen-Salvador is the co-founder and co-executive director of NOW! — the global movement pushing for humanity to work as one to solve the biggest challenges of our time. She also co-founded the pan-European political party Volt, where she was responsible for the creation of policies and political direction. Cahen-Salvador previously worked for Robert F. Kennedy Human Rights as a legal fellow in the International Strategic Litigation Unit. She was awarded the inaugural Duke Law School's international law and human rights fellowship, during which she worked at the OHCHR and at the Norwegian Refugee Council. Cahen-Salvador holds a degree from the Warwick Law School and a master of law from Duke Law School.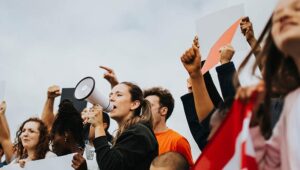 We are running out of time to solve crises like climate...
Will you support FO's journalism?
We rely on your support for our independence, diversity and quality.
The IRS recognizes Fair Observer as a section 501(c)(3) registered public charity (EIN: 46-4070943), enabling you to claim a tax deduction.
You can also contribute via