Bàrbara Molas
Bàrbara Molas, PhD, is an expert in far-right ideology and radicalization (the 1930s through COVID-19). Author or editor of several books and peer-reviewed journal articles on the radical right, she also teaches at York University, conducts postdoctoral research at the University of New Brunswick, is a leading member of the British-based Centre for Analysis of the Radical Right (CARR), and consults on right-wing extremism online with governmental bodies, social media and independent research organizations in Europe and North America.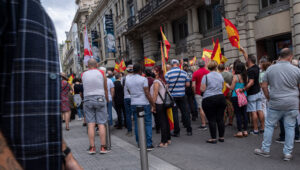 Spain is no longer an exception when it comes to the growth...
Conspiracy theories and claims to freedom of choice have...
November 12, 2020
Will you support FO's journalism?
We rely on your support for our independence, diversity and quality.
The IRS recognizes Fair Observer as a section 501(c)(3) registered public charity (EIN: 46-4070943), enabling you to claim a tax deduction.
You can also contribute via