Antonino Occhiuto
Antonino Occhiuto, based in Rome, completed his postgraduate studies in London at the School of Oriental and African Studies (SOAS) where he obtained a Master of Science (MSc) in International Politics, a course specifically focused on the Middle East and security and defense affairs. His main areas of research and specialization are the relations between EU and Gulf Cooperation Council (GCC) member states, internal political dynamics in the GCC, Yemen and security in the Gulf. He contributes periodically to magazines and newspapers both in English and Italian and to the Italian Review of Geopolitics "Limes." Occhiuto has already presented at high-level forums, including the EMSI conference in Nicosia (2018), IEMed's EuroMeSCo conference in Barcelona (2019) and DGAP-organised forums in Berlin and Amman (2019). He currently works as analyst and researcher at Gulf State Analytics.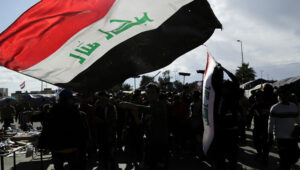 Baghdad will have to confront formidable security...
Will you support FO's journalism?
We rely on your support for our independence, diversity and quality.
The IRS recognizes Fair Observer as a section 501(c)(3) registered public charity (EIN: 46-4070943), enabling you to claim a tax deduction.
You can also contribute via