Anke Richter
Anke Richter is a foreign correspondent and columnist based in Christchurch, New Zealand. Besides covering earthquakes or the 2019 mosque shootings, she is an international observer of cults as part of the conscious movement. She has written about the fundamentalist Christian enclave Gloriavale in New Zealand, Osho's former ashram in India, Orgasmic Meditation (OneTaste) in San Francisco, and she was the first reporter on the scene in Thailand when the Agama Yoga story broke. Her exposé about the disastrous aftermath of the sex cult Centrepoint was shortlisted for a media award and turned into a documentary. Richter has also written three non-fiction books. Her investigative and personal features are published in Die Zeit, FAZ, taz, New Zealand Geographic, North & South, The Spinoff and many more.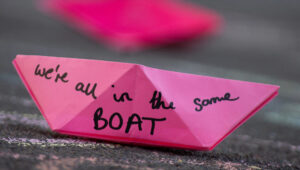 Extinction Rebellion is based on hard science but works...
Emboldened in part by the #MeToo movement, former and...
August 11, 2019
Will you support FO's journalism?
We rely on your support for our independence, diversity and quality.
The IRS recognizes Fair Observer as a section 501(c)(3) registered public charity (EIN: 46-4070943), enabling you to claim a tax deduction.
You can also contribute via